Review: 'saintmotelevision'
It happens all the time. An indie pop band storms into the mainstream after being featured in a movie trailer, and then their music changes as pressure from a larger audience grows more and more overbearing. Longtime fans are disappointed at the sellout, and their songs are always stuck in your head because of the constant exposure in outlet malls and Village Burger Bar. Luckily, Saint Motel escape this all too common curse, as proven in their sophomore album "saintmotelevision," released on Oct. 21.
Saint Motel has been active since 2007, but their collection of EPs and 2012 debut album Voyeur have only received modest attention until their single "My Type" was featured in the 2014 movie "Paper Towns," and they subsequently dominated the indie pop scene. It's no surprise why: the two frontmen A/J Jackson and Aaron Sharp met as film students at Chapman University in Orange, Calif., and their taste for aesthetics, impressive production and lively West Coast vibes is prevalent in all of their music. "saintmotelivision" showcases the best of that; all the songs are fresh, groovy and theatrical.
The short, 31-minute album matches the progression of a spring break vacation in a wholesome teen movie. In this movie, everyone is wearing cool sunglasses and drinking smoothies, and the only dramatic thing is that one kids dances a little too aggressively and falls in the pool. Then the night ends with everyone gathered around a bonfire on the beach, wrapped in blankets contemplating the brevity of adolescence and excess of love and happiness in their hearts.
Songs such as "Move" and "Born Again" coincide with the happy, high energy exposition of the hypothetical movie. The trumpets and jazzy beats make the songs much more interesting than your average alternative music. "For Elise" is cool and vibey and incorporates Beethoven's "Fur Elise" in between verses which further exemplifies Saint Motel's talent for excellent instrumentals and opening riffs. The album ends with "Happy Accidents," a soft, bittersweet song in which Jackson croons about what life would be like without his loved one. It's a perfect way to end the album, like gently closing the cover of a hardback book.
While the progression of the album makes sense storywise, it comes off as a bit lopsided. I prefer different moods sprinkled throughout an album. And as a pretentious indie snob who tends to prefer folkier, more cacophonic things to listen to, some of the songs sounded a little too bland and radio friendly. That being said, the album is a lot of fun to listen to. It's the kind of music that can elevate your mood no matter how low you're feeling. For these reasons, I give "saintmotelevision" an A+.
About the Writer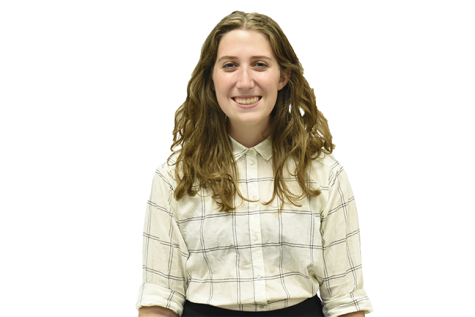 Sara Schleede, Editor-in-chief
Sara Schleede is a senior who enjoys podcasts, sweater tights and visiting museums. She plans to study print and digital journalism in college and then...