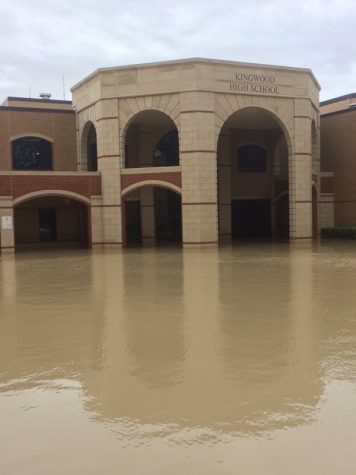 Parker Primrose, Sports editor
Several club leaders have chosen to adopt Kingwood High School in response to the damage caused by Hurricane Harvey. The club leaders met after school on Sept. 6 and chose to...
10 hours ago
Natalie McMahon, Staff writer
Allen High School held a community-wide contest for prideful lyrics to match the famous melody of Allen's school fight song. After the entries were submitted, they were evalu...
May 18, 2017
Christine Odwesso, Staff writer
From paint to pastels to prisma to ceramics, art in every form was featured on April 28 in the PAC Art Gallery for the AP art show. The purpose of the AP art show is to presen...
May 15, 2017
Bryn Chambers, Sr. managing editor
Five months after Blane Hinton, the previous head band director, suddenly resigned, Dr. Philip Obado was chosen to be the next Director of Bands in Allen. "I was ela...
May 15, 2017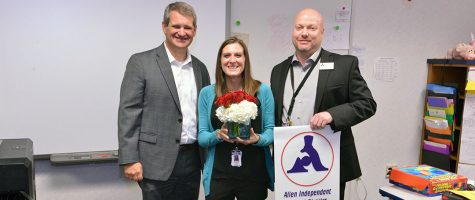 Alyssa White, Staff writer
On April 6, Catherine Gregory was named Allen's 2017 "Secondary Teacher of the Year," and listening to her speak of her students makes it obvious as to why. Going ...
May 15, 2017
View All »
Divya Jagadeesh, News/feature editor
Global On May 7, 82 of the near 300 Nigerian schoolgirls kidnapped by Boko Haram three years ago were released in exchange for suspects of the militant group. The return...
May 15, 2017
Divya Jagadeesh, News/feature editor
Global Canadian Prime Minister Justin Trudeau introduced a bill April 13 that would legalize recreational marijuana use. If the bill passes, Canada will be the second country,...
April 21, 2017
Divya Jagadeesh, News/feature editor
Global The United Kingdom formally began its withdrawal from the European Union on Wednesday. The two-year process comes with multiple obstacles, including future trade deals b...
March 31, 2017
Briefly speaking — Week of 3/20
March 30, 2017
Briefly speaking – week of 3/13
March 17, 2017
Briefly speaking — Week of 2/20
February 24, 2017
View All »