Mareux: The Perfect Darkwave
Reverberation ebbs and flows, creating a sound that instantly transports listeners to nighttime. From upcoming mainstream artists like Lebanon Hanover to international groups like, Russian-based, Molchat Doma, there has been an influx of punk inspired darkwave music. 
Often the darkwave genre is intended to be an expression of counterculture, as if it's reinstating disorder and raw energy. Beginning around the '70s and '80s in Western Europe and U.S. cities, darkwave added an atmospheric mood to punk. The interesting thing about darkwave music is that it reemerges in almost every generation in different forms. 
One increasingly popular example is musical artist Mareux. 
Formally named Aryan Ashtiani, Mareux began his discography in 2013 with the experimental electronic independent EP "Decade." His most recent album, "Predestiny," boosted the artist's fame. Since this spring, Mareux went from 75,000 to 125,000 Spotify followers. In his production, he embraces synths and is frequently compared to Mr. Kitty, who shares the monotone yet nostalgic intonations. 
In fact, nostalgia may be the best word to encapsulate Mareux. His fans, many from Eastern Europe or Latin America —as is the case with most darkwave artists— often comment on the nostalgia they feel upon hearing the muted lulls of his beats.
His most recognized song, "Perfect Girl," has spread through social media, notably with the creation of film edits. A cover of The Cure's original, Mareux has proved that inspiration can be so amazingly obscure. The contrast is impressive. Mareux takes a streaky instrumental that is easily recognizable with a blurred voice, almost like an afterthought. 
Listening to The Cure's version, the cheerful melody and bright tone seems like an entirely different world. As an artist, the cover proves Mareux succeeds in finding what is present and then challenging it to become something vastly new. 
Many of Mareux's songs, such as "Summertime," reflect on being unable to escape the past and depending on the warmth of memories that others bring. In this way, his lyrics match the dark sounds. Mareux manages to simultaneously incorporate quiet and sharp with blurry shouts. That is the satisfying thing about his work: a calming yet electrifying blend of instrumentals and vocals. 
A possible critique is that Mareux lacks genre diversity during a time when more popular artists seek to constantly reinvent themselves. However, the mesmerizing quality of Mareux's songs is that they each have subtle differences so that the entirety of his work blends yet stands out. Each song's defining feature, like "Imorata's" snares, shows how he continues to experiment with building instrumentals. 
"Cold Summer" has a more relaxed, light pop sound with airy guitars. The heavy bass and beautifully purposeful use of silence transforms the song's purpose to not just entertain, but to captivate. "Psycho," in comparison, involves loops of claps and dance beats while "1979" is a wordless, short, grainy guitar ballad. 
There are not many music videos in Mareux's repertoire, but the few he has posted are typically surreal. "Summertime" is visually depicted by grainy, moving shots of a beachy sunset and a neon city. "Summertime is boring," Mareux recites as the city's lights flash. 
At first his lyrics seem melodramatic, but the clips of naturally lively places suggest that maybe Mareux is half-heartedly lamenting lost relationships, realizing that life goes on and he can't afford to forever wallow in despair. 
Mareux exemplifies the residue of a genre that has adapted for decades. With his skillful blend of pop, alternative and the obscure features of darkwave, he doesn't limit himself to one label. This mysterious quality makes Mareux a perfect listen for those searching for an entrancing, nameless sound.
Leave a Comment
About the Writer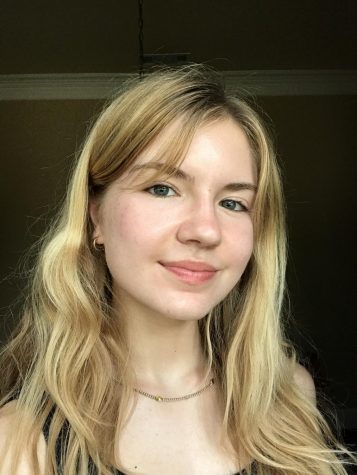 Brianna Juric, Feature Editor
"I enjoy ballet, reading and finding great music. I want to have a career in medicine and travel everywhere. I hope that by being on the newspaper team...