The hidden struggle
How Allen residents endure, alleviate poverty
Hardship manifests in different ways.
In Allen, Texas, it doesn't manifest as a high crime rate or streets filled with decrepit houses.
It's a student in running club winning his first pair of new shoes in months.
It's a car, stuffed to the brim with belongings, sitting in the back of the Walmart parking lot for six weeks.
It's a family trading their five-bedroom house for a one-bed hotel room.
It's a newly unemployed father swallowing his pride as he walks through the front doors of a food pantry.
While Allen is widely known as a safe and affluent town—it was ranked seventh in the country for "socioeconomic environment" by WalletHub in 2016—families still experience adversity, just as in any other town.
This is the hidden struggle: living below the poverty line in a city where only 6 percent of the population shares the same fate. Growing up in an area that is largely unaware of the financial peril that permeates throughout the community.
Life below the line
Junior Will* is no stranger to this struggle—he grew up in various low income housing developments in Detroit and Atlanta before moving to Allen halfway through his eighth grade year. While his economic situation has improved, it's a far cry from Allen's median income of $102,120.
Despite his former hardships, Will says he had a happy childhood.
"I never really thought of myself as poor," Will said. "I had lived [like] that my whole life and I figured that was how the whole world was. I never really thought that most houses don't have boarded-up garages. Most people don't live in bug-infested houses. Most people don't get their electricity shut off."
In Allen, the cost of living, while lower than the national average, still ranks above larger cities like Dallas. According to The Samaritan Inn's Director of Programs Eliska Counce, the going rate for a two-bedroom apartment in the area typically requires a full-time job paying $17.50/hour, nearly two and a half times the current federal minimum wage of $7.25. This can make it impossible for unskilled workers to stay afloat.
"You don't realize what it takes to live in Collin County," Counce said.
One apartment complex in Allen—Chaparral Townhomes—participates in the Low Income Housing Tax Credit program, which gives those earning less than 60 percent of the area's median income a reduced rent. Though Will hasn't lived there, he claims the difference between Allen's affordable housing and developments in poorer cities is astounding, in the quality of housing and in the safety of the area.
"In Allen [low income housing is] a lot nicer and better funded because Allen has a lot of money," Will said. "There are people in Allen that are struggling. But at the same time, it's not as bad to be struggling in Allen as it is in other places. Because no matter where you go in Allen, it's still going to be relatively safe."
Finding sanctuary
For those who can't afford any kind of housing or find themselves in a tight spot, there are homeless shelters in the area. In Collin County, the annual homeless census counted 501 people in shelters and living on the streets.
McKinney's 160-bed homeless shelter, The Samaritan Inn, is currently home to 142 individuals, around 40 of which are children. The Samaritan Inn is a transitional shelter, meaning that all residents must be working, pass drug tests and have a valid ID as well as complete an interview in order to gain entrance.
"A lot of people don't realize that a lot of the homelessness is single mothers and children," Counce said. "People are not aware, and people are ashamed. They're going to school and going to work, but people don't know they're living in their cars or living in a shelter because they're embarrassed."
The Samaritan Inn also offers a 20-unit, prorated transitional apartment program for graduates of the shelter. The apartments are completely furnished by volunteers.
As the only homeless shelter in Collin County that is not a domestic violence shelter, The Samaritan Inn is almost always at full capacity. Collin County does not have an emergency homeless shelter, leaving people struggling to pay for hotel rooms or living out of their cars.
"We're not meeting the needs [of the community] at all because there is no one to handle those emergencies," Counce said.
Because the Samaritan Inn is turning away nearly 150 people a week due to overcrowding, they are building a new, 220-bed facility that is expected to open in the fall of 2017. In the meantime, homeless individuals are finding refuge in the woods or parking lots, and organizations such as Allen Community Outreach (ACO) offer resources, but not homes, for those in need.
Offering relief
Perhaps most popularly known for their food pantry and resale shops, ACO provides a myriad services to help indigent families and individuals. Clients can make appointments or walk in to meet with Director of Client Assistance Janet Smith, who can offer guidance regarding rent and mortgages, prescriptions, utilities or ESL classes, among other things, depending on the given situation.
"We try to assess them as a whole and not just deal with what they're coming in for," Smith said.
Although the resources to get back on track are plentiful, poverty tends to take a psychological toll on those who experience it. The National Coalition for the Homeless cites mental illness as the third largest cause of homelessness, with up to 25 percent of homeless people suffering from some type of mental illness.
"We find quite a few of our clients are beat down physically or emotionally, and you have to help them regain their confidence and let them know that this can just be a temporary situation and that with more work and dedication, [they] can be on the giving side again," Smith said.
Clients in Allen aren't necessarily those who grew up impoverished. Frequently, they are divorcees or professionals who used to make six figure salaries but have been forced to quit due to illness. They are community members who used to give to ACO but now need to receive.
While Smith considers Allen to be a "very giving community," she stresses the importance of offering time and presence when giving back, rather than just material goods, as well as not making assumptions about how to best serve someone else.
"Listening is very important because that works, and it allows us to address not only what they're asking for, but [also] we can get to learn what they truly need and how to best help them," Smith said.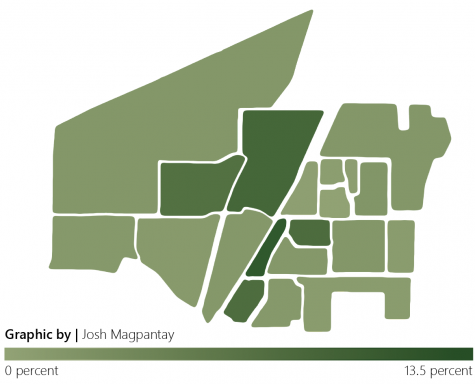 Aid in schools
The community offers support starting in the early stages of childhood; care coordinators gather resources for students at Boyd and Rountree, two elementary schools sitting in neighborhoods with Allen's highest concentrations of families below the poverty line. (See graphic for more information).
Beth Bentley, Rountree's care coordinator, has centered her career around a passion for community work. Throughout her several jobs—she once tutored inner city kids and was the director of a nearby housing authority before taking her current position—she says she has recognized a common thread.
"I've found that when people have the resources that they need, they tend to be able to move on and do the things that they need to do without too many hiccups along the way," Bentley said.
In the case of elementary school-aged children, the smallest things can allow them to move on and flourish: a new backpack, sneakers or even just a smile from a trusted adult. According to Bentley, positive relationships can ease any hardship.
"I believe in forming relationships with people, and once you have the relationship established and there's a trust factor, all of the other stuff is kind of easy, even if it is traumatic," Bentley said.
Rountree and Boyd Elementary are the only schools in the district that receive Title 1 funds, which are set in place by the Elementary and Secondary Education Act to provide financial assistance for schools with high percentages of students from low-income families to meet their educational needs. Bentley coordinates grants that give resources such as coats, shoes or school supplies.
Oftentimes, incentives are built in so that kids can earn what they need. These incentives are put in place to alleviate the stigma that those in need are simply receiving hand-outs, Bentley says. Even if someone has less than another, she says that Rountree and Allen ensure "that everyone can live together harmoniously."
"If you go in our cafeteria on any given day, you cannot walk in there and see who has what," Bentley said. "You just don't know. It's very much a good blend."
To preserve that anonymity and sense of sameness, cash is not used in Allen cafeterias. PIN numbers (at elementary schools) and ID cards (at middle schools and the high school) prevent students from knowing how much a student is or isn't paying for their meal.
The Allen ISD Free and Reduced Price Meal program allows students whose family income falls below a certain eligibility guideline to eat a balanced meal at school. Other recipients include children of families who collect benefits from the Supplemental Nutrition Assistance Program (SNAP) or Temporary Assistance for Needy Families (TANF), as well as homeless students. Reduced price breakfast costs $0.30, while lunch is $0.40.
"[The program provides] a meal and choices of food that kids may not be exposed to at home, because all of our meals have to have certain nutritional components as well as fulfill a certain criteria for variety," Director of Student Nutrition Dorothy Thompson said.
Promoting unity
Administrators are constantly looking for ways to offer more variety to students, as well as to reduce the shame associated with needing assistance. At Boyd, a grab-and-go breakfast cart has been implemented outside the cafeteria so students cannot be identified as participants in Free and Reduced Price Meals by the fact that they eat breakfast.
Thompson says she believes that implementations such as these help fight stigma and limit divisions between the prosperous majority and struggling minority.
"We are a very privileged group of folks with very small pockets of people who are having a tough time," Thompson said. "So it's pretty easy to know where the folks are that don't have much. It's just a matter of targeting those areas where those folks are."
Michele Fesenbek, counselor at Rountree Elementary, regularly communicates with parents to ensure a positive educational environment for the students. The issues she addresses can range from arguments among peers to divorce to homelessness, but she says that financial problems at home only come up in situations where it will affect the child directly.
"I don't think kids really know," Fesenbek said. "There are some that probably do, but I don't think that's the norm. I think parents do what they can to provide their kids with what they need or want, and the kids don't realize that it's a struggle for their parent."
No matter the level of affluence at a school, Fesenbek emphasizes the widespread importance of coping skills, conflict resolution and stress management for all children. Counce echoes a similar sentiment: poverty is not malicious, and anyone can fall victim to it.
"Poverty to a lot of people in Collin County is a moral issue," Counce said. "That if you are poor or sick or have problems, you're a bad person. You did something to cause that."
In truth, 60 percent of Americans will experience poverty at some point in their life, according to Time Magazine. The struggles may be hidden, but they are widespread, and often due to no fault of the person.
"People are people, and everybody needs to be developed from their heart," Bentley said. "If you a strip a person down to nothing materially, there is still something intrinsically of great worth and value in that person."
*The name of the student interviewed for this story has been changed to protect their identity.