Volleyball Season Overview
The Allen Eagle High School Volleyball team, coached by Stephanie Poole and Jacqy Angermiller, won against the Trinity Christian Academy Trojans 3-0 at their first home game on Aug. 23.
The varsity team is made up of 16 players and four physician assistants, with co-captains junior Alyssa Boyte and senior Kaitlyn Parrott.
"I want us to get better and come together as a team, which we have, but even more, and accomplish something," Parrott said. "We're kind of the underdogs since everybody knows we lost so many seniors, going through that [loss] and becoming better by the end and surprising people."
The team started their season on July 24 with their pre-season practices. These continued into the school year with practices every morning and afternoon, with the exception of gamedays.
"Volleyball is pretty much my life. If I'm not in school, I'm in volleyball," said junior McKenzie Mitchell. "So me as a person, my entire day and week and months and years, it's surrounded by volleyball. I know I don't get that much downtime, but I really do enjoy it. It has been a big part of my life for the past five years and honestly, it's probably impacted my life a lot better because of the happiness that I get from it."
The team's dedication to improvement shows in how they come together to defeat an opponent.
"We come together more as a team like at the beginning we all didn't really know each other because we have younger people and I think everybody getting more comfortable with each other has brought us together as a team and on the court," Boyte said. "You can see that as well. It's exciting to see us come together as a team on the court, not like individuals like we were earlier in the season."
The team captains must give a speech to both the JV and varsity teams to pitch why they should be captains by showing how they'll improve the team with their commitment.
"I had really good captains last year and I was able to see how much they did for the program and especially the team, so I wanted to carry that on and do the same thing for my team," Boyte said. "Even though I'm a junior and not a senior, I want to be that example for everybody. Since I'll be with most of them next year it'll help everybody in the years to come."
Last year the majority of the varsity team were seniors, so once graduation hit the Eagles had to build their foundation again. 
"Eagle pride is something way bigger than just two words, eagle pride is knowing that you are on the team like that you're a part of something way bigger," Mitchell said. "[It's] knowing that you will work hard every single day and you're very prideful about building this program up."
Despite being unfamiliar with each other, the team has an unbreakable bond and undeniable chemistry on the court. 
"I think [volleyball is] a really good experience, it's kinda like a different family," senior Janet Zhang said. "I know a lot of people use volleyball as an escape from the reality of their lives and just somewhere to have fun, an outlet, you make a lot of connections with the team and I've made some of my closest friends through the team. It's just great having a strong connection with people and playing a sport with the people you love." 
The district games officially started Sept. 9. Their next game is Sept. 13 against the Braswell Bengals, with JV at 5:30 p.m. and varsity at 6:30 p.m. at Braswell High School.
Leave a Comment
About the Contributor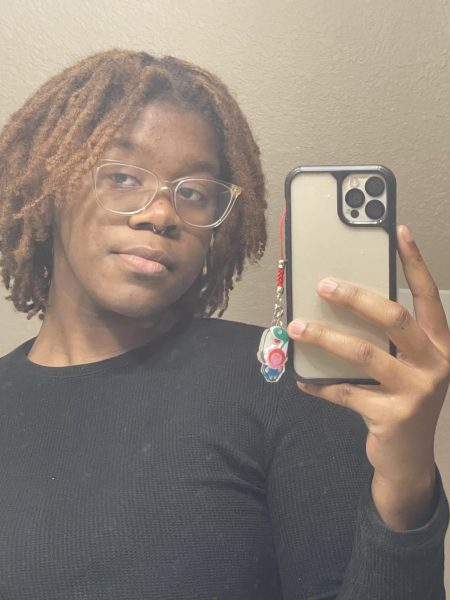 Kie Binion, Editor-In-Chief
"This year marks my sixth year of journalism and I'm absolutely ecstatic to be EIC this year. I love seeing the staff become more confident as both writers...