The Battle of the Eagles
Allen's girl's soccer team took a loss to rival school Prosper on February 7 after a hard-fought game that ended in penalty kicks. 
The game was delayed during the first half due to a lightning report. Once the delay ended, Allen's lone goal came early in the second half by junior Sydney Williams. However, Prosper tied the score with a late penalty kick. With the score still tied after regulation, the game went into penalty kicks with Prosper pulling through in the end. 
Allen made small mistakes throughout the game, such as fouling and not taking advantage of their opportunities, but they feel that they recognized those mistakes and know what to do for their next matchup. The team has a rematch with Prosper on Tuesday, March 7. 
"I think in terms of taking advantage of our opportunities in front of the goal, we definitely could have definitely done better," senior goalkeeper Robbie Curry said.
Curry, Sutton Markee, and Emma Monsen are enthusiastic about this next game and are prepared to play their best. But it is not just about how the team plays during the game. It's also about how they prepare before the game. The team likes to get excited and pumped up before all of their games, including this one, Curry said.
"We prepared by doing the Cupid Shuffle and hitting the Dougie in the locker room to get us hyped," junior Sutton Markee said.
One reason the team feels rather confident about its next match-up against Prosper is that they feel they have a better skill set and are a more tight-knit group than its opponents. 
"We are the better team, we have better chemistry, we just have to take advantage of it," Curry said.
One key factor to the team's loss was fouling. All three players feel that they committed an excessive 9 penalties and could've been smarter by only fouling during necessary plays, Monsen said. One of these fouls came in a critical spot at the end of the game and led to a Prosper penalty kick goal.
"We could've done better by not fouling, and our bad clearances were a big part as well," senior midfielder Emma Monsen said.
Overall, the next meeting between the two is a highly anticipated game "revenge game" for the players, Markee said. Allen is preparing and locking in on this matchup, and will not go down without a fight, 
"There's only one Eagles in 6A," Markee said.
Leave a Comment
About the Writer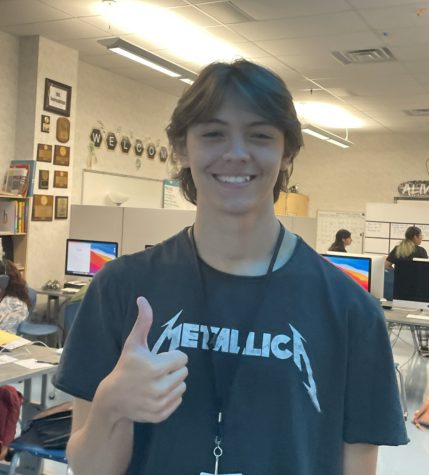 Camden Briggs, Staffer
"I enjoy being outdoors and playing baseball. I chose this class because I did it last year and it was fun."