The Battle of the Eagles: Round 2
The Lady Eagles Soccer team had their rematch with the Prosper Eagles at home on Mar. 7.  Allen kept possession of the ball most of the game, and Prosper wasn't able to take advantage of their opportunities. 
Allen ended up taking the win after a hard fought 2-0 game, with sophomore forward Ava McDonald scoring both of Allen's goals. This win secured Allen the title of district champions and the number one seed going into the playoffs. With a district record of 13-0-1, this marks the first time the team has won districts since the 2017-18 season.
The team changed its attitude going into the game when compared to the last matchup with Prosper on Feb. 7. That game ended with a tie which then went into penalty kicks where Allen lost 4-2.
"I think the grit to just wanna win and beat Prosper knowing that district champs were on the line, that was really a big deal for us," senior midfielder Melania Fullerton said.
Among all the reasons to want to take down Prosper, winning districts was to be the biggest motivator for the team this time around. Fullerton described having a focused and serious mindset heading into the game.
"We focused more and mentally prepared ourselves better than last time…I knew that if we won this game we'd be district champs," McDonald said.
Going into the game with confidence was important for the team. They took this to the next level before and during the game.
"I think we came into the game being loud and obnoxious, and it scared them," senior outside back Emma Monsen said.
This confidence showed on the field as well by the team's aggressive play throughout the game. Fullerton said that the team had identified weaknesses in the opponent's game the first time out, and took advantage of them this time around.
"Our defense played really well, and we were always first to the ball," Monsen said.
They kept a positive attitude throughout the game and never got down on themselves.
"We didn't get frustrated with ourselves when bad stuff happened, we stayed positive on the field and just kept on playing," junior forward Sutton Markee said.
 According to Monsen, the team is very satisfied with how they played and the win itself. They've proved to be a team to be reckoned with going into playoffs.
"At the end of the day, it's a game of who wants it more, and the Allen Eagles do," Markee said.
Leave a Comment
About the Contributor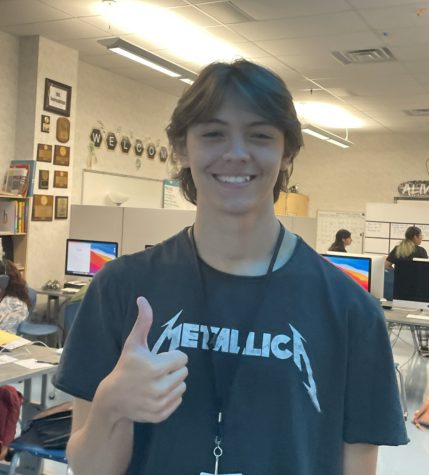 Camden Briggs, Staffer
"I enjoy being outdoors and playing baseball. I chose this class because I did it last year and it was fun."