Eagles outlast South Grand Prairie
Hang on for a minute...we're trying to find some more stories you might like.
The Allen Eagles emerged victorious in a tightly-contested affair with the South Grand Prairie Warriors at AT&T Stadium, winning by a score of 28-14. With the win, Allen advances to the third round of the playoffs.
The Eagles got off to a slow start, allowing a touchdown on the first drive and not reaching the end zone themselves until midway through the second quarter. The offensive revival was led by senior running back Brock Sturges, who plowed through would-be tacklers for moderate gains throughout the game. Sturges finished the game with 179 rushing yards and one touchdown, with 164 of those yards coming after the first quarter.
"[My teammates] just kept pushing me on," junior quarterback Grant Tisdale said. "If my teammates are strong, I'm strong."
Tisdale overcame early sacks and a near fumble to finish with a solid overall performance, gaining 155 total yards and scoring three total touchdowns. The Warriors did an excellent job of shutting down the deep passing attack, forcing the Eagles to settle for short gains and neutralizing Allen's speed at wide receiver.
"We work on [a variety of concepts] during the week at practice in case something like that happens and we can't throw the deep ball," junior wide receiver Theo Wease said. "We go short, run it a couple of times and then go over the top."
The offense's drive of the game came midway through the fourth quarter with the game tied at 14. Tisdale kept the drive alive with several scrambles on third down, and Wease recovered a Sturges fumble and then caught a 27-yard touchdown pass to give the Eagles the lead.
"We've just got to take what the defense gives us," Tisdale said. "Most of these teams are going to be scared of our deep ball. We just have got to start short and make them come up."
The South Grand Prairie offense put together several long drives, relying on their speed at running back and wide receiver to get around Allen's strong front seven. Warrior quarterback Nakia Brown proved elusive in the pocket and downfield, finishing the game with 191 total yards and one touchdown.
"We've got to come out [and play]," senior linebacker Jace Waters said. "Not everybody's going to lay down for us, so we've got to come out hot."
The Warriors also utilized screens and halfback tosses to get away from Allen's linebackers, but the Eagles were still able to slow their rushing attack due to strong play from the interior of their defensive line. The Warriors rushed for 159 yards on 38 carries, averaging just 4.2 yards per carry.
"We know we have some dogs," senior safety Taj Bickham said. "We just let them go head-up throughout the whole game, and we came out on top."
The Eagle defensive play of the game came when South Grand Prairie was in the red zone with 10 seconds left in the second quarter. Bickham intercepted a Warrior pass in the end zone to prevent a touchdown, keeping the game tied going into halftime.
"[The interception] was big," Bickham said. "I knew we needed a big play, and I was trying to keep our defense up the whole drive. You've just got to stay calm and composed throughout the whole game, doesn't matter if they're up or we're up."
Next week the Eagles will take on Arlington Martin at Dragon Stadium in Southlake on Dec. 1. Keep up with all the action by staying here on The Eagle Angle or by following our Twitter, @theeagleangle.

About the Writer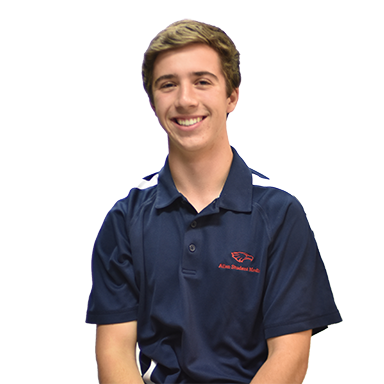 Parker Primrose, Sports editor
Senior Parker Primrose is a huge Denver Broncos fan, has a golden retriever for a brother and loves the movie Forrest Gump. Primrose plans to attend [insert...