Allen students speak out for gun reform
Allen High School students organized a rally calling for gun reform on April 20 at the Allen High School track stadium as a response to the shooting at Parkland High School on Feb. 14 and other mass shootings across the country. The event was attended by more than 50 students.
"What drove us to lead this event was we all wanted to work toward gun reform and have students get together," senior Izzah Zaheer, who helped organize the event, said. "I care about [gun control] because I want to be safe in school. I understand why people have the right to bear arms, I think it's an important right and it's crucial to American democracy, but there needs to be limits on it. The Second Amendment was written in the 1700s, and a lot has changed since then, and I think we need to change with that."
The event featured chants, a moment of silence for the victims of the Parkland shooting, and the sharing of information about local representatives and their respective affiliations with the National Rifle Association.
"After writing our letters to our state representatives, I found out about another school shooting that happened in Florida, and that was just kind of the tipping point for me," senior Tyra Wilson, an attendee of the event, said. "You just never know, and that's a frightening thing. We should be able to know in America in 2018. We should know that our safety is guaranteed in our schools."
Also making their presence felt during the rally were a group of students who disagreed with what was being shared about gun control, as sophomore Eric Walters felt it was akin to brainwashing.
"I just think it's not right that they have a whole protest without anything from the other side," Walters said. "It's biased, it makes it pointless. If the government should have it, why shouldn't we?"
Some attendees of the rally, such as sophomore Daniel Crawford, were not advocating for a specific side, instead hoping to learn more about the gun control issue and what people believe.
"I was really just looking forward to coming here and having a conversation with the people who organized it," Crawford said. "I wouldn't consider myself exactly on their side per se, really I was just in the mood for some civil discourse. I think they're very well-intentioned, sometimes not exactly in agreement with what I think, but just in general, I have a pretty good opinion of them."
On the same day, walk outs occurred across the country in remembrance of the shooting at Columbine High School that took place 19 years ago, in which 15 students were killed. National debate has taken place over whether or not the walkouts have a true impact, but Allen students like Wilson feel that it marks the beginning of something greater.
"It's a marathon, not a sprint, as cliche as that is," Wilson said. "Just the fact that this amount of people showed up today, it's one more step forward. Even though a majority of the school can't vote yet, we're thinking about it in advance, we're firming up our beliefs with research, and it just gives me hope for the next generation."
About the Writer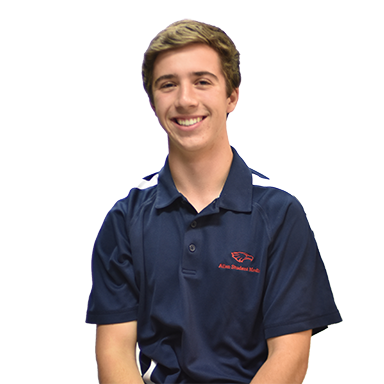 Parker Primrose, Sports editor
Senior Parker Primrose is a huge Denver Broncos fan, has a golden retriever for a brother and loves the movie Forrest Gump. Primrose plans to attend [insert...