Q & A with Daniel Washington
How did you decide to be a security guard?
Well actually it wasn't my plan really. I think it was probably God's plan over mine. I actually wanted to be a police officer, and I went to two different police departments and actually made it, but I didn't make it in the end for weird reasons. So I ended up here. I started in '08, and I worked three years in the janitorial department. Then I got promoted and came over to security. I love it here. I drove big rigs across the country for a while. I could be doing a lot of other things. I'd rather be doing this, to tell you the truth.
What would you say is your favorite part of being a security guard here at Allen?
I really do take you guys' safety first, over everything else. I think that's why I've lasted for almost 10 years, for that reason. It may not be the best thing about the job, but it's what I treat as the most important.
What's kept you here for 10 years?
You guys. To see a generation graduate, 10 generations of students graduate, it's a beautiful thing.
What do you like to do in your free time?
Video games. Call of Duty. My favorite one right now is probably Team Bravo.
A lot of the people don't know the names of the security guards, but everyone knows who Mr. Washington is. Why do you think that is?
Because of the years that I've been working here, and I try to deal with all students fairly and equally. You kind of become popular when you do that. I'm not real hard on students or real strict. When I'm here, my first priority is safety, and after that, the rest is what comes with the job.
What's one random or interesting fact you think no one knows about you?
My time in the Marine Corps, what I did in the Marine Corps, stuff like that. I went in in '77 and I was stationed in Hawaii. I got lucky in getting stationed in Hawaii. I did that for a couple of years, but if you know anything about Hawaii, if you kind of Google and look up the history of the Marines in Hawaii, a lot of things happened over there that people don't hear about here in the states. Look it up. Very interesting, very interesting time. I enlisted because I wanted to go, to do my part for my country.
With everything that you've done and experienced, what advice do you have for someone who's about to start out on their journey?
Go to college or enlist in the service. Think about your future, your future's important. Always try to think ahead. Look down the line at where you want to be in 10 years, and then try to strive for that. You'd be surprised how easy it is to get there. You talk to the right people, do the right things, and one thing will lead to another. You start doing one thing, you start realizing you're taking another path, you look up and you end up doing a lot more things than you think you could or ever would have. You guys, for y'alls generation, you have the opportunity to do a lot of things.
About the Writer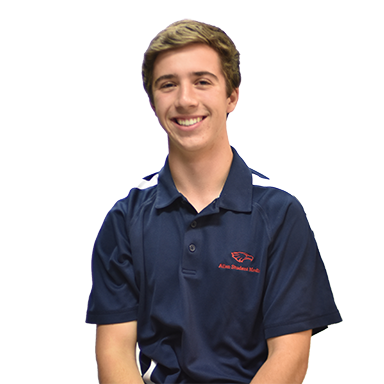 Parker Primrose, Sports editor
Senior Parker Primrose is a huge Denver Broncos fan, has a golden retriever for a brother and loves the movie Forrest Gump. Primrose plans to attend [insert...