Whats Cooking: A Look Inside Allen's Culinary Program
All about the new chef
The school has gotten a second head chef for the growing culinary program at the high school's student-run restaurant , Blu Cafe. His name is Shane Harvey and he already has connections to Allen.
"My wife already works for Allen, she works at Ereckson Middle School, [and] people like the principal knew I was a chef, and I guess that would eventually make its way up the grapevine and people asked me if I wanted to be an educator last year," Harvey said. "We figured it would be easier for me to have the same hours she does, so I did the paperwork to get certified to become a teacher."
Harvey has been interested in culinary since a young age as his mother was also a chef.
"[When] my mom grew up, she had her own personal chef and she went to the actual Le Cordon Bleu in France long before I did," Harvey said. "My mom basically made everything home-made."
Harvey is highly educated in the field of culinary, having gone to Le Cordon Bleu, one of the worlds oldests and mot famous culinary school, according to Le Cordon Bleus about us page on their website, and TWU to pursue his interest in culinary arts.
"I have a degree in environmental science — I went to Le Cordon Bleu," Harvey said. I started here in Dallas, and I paid a little bit extra to go to Le Cordon Bleu in France. So I have bachelor's from [there] and I have another bachelor's from TWU in Restaurant Management and Science."
He also has many years of experience working in a kitchen having worked at TJ's Seafood Market and Grill.
"I worked at both locations and I was technically the assistant director of operations, but I was used mainly as a fish case manager at our two locations," Harvey said.
Harvey has taken up the role of managing Blu Cafe's front of house. There, he teaches management classes and helps student servers and cashiers.
"In the back, there are a lot of practical skills where you need to memorize how different dishes go together," Harvey said. "Working up front is about communication, it's about talking to people, it's about when someone comes in and asks you how your day is."
What They're All About
This year Head Chef Matthew Denman has some big plans lined up for this year. These plans include getting more involved with the community by giving back.
"[At] the hospital across [Highway] 75 on Exchange, we're trying to get some kids over there cooking in their kitchens, but serving our food, so that's pretty exciting," Denman said.
He's also looking forward to getting the culinary program to be more accessible for students, encouraging them to come and eat at bleu. When asked about what he wants this year Denman said the following .
"Just being more established because last year the student body could come in and eat, Juniors and seniors, if they have their trust card, they could come in and eat, and I think it will grow as more kids hear about it through publicity like this," Denman said. "So we want to get the news out and be busier and be more engaged with the students."
Junior Zachary Grodof, who is a student in the program is very excited for this year.
"My favorite part of the class is actually running the restaurant and the business side of things," Grodoff said.
Blu Cafe is open for breakfast and lunch everyday where they make a variety of meals for juniors and seniors to come enjoy.
"We are open for breakfast and lunch," Denman said. "We [make] breakfast tacos, pastries, danishes [and] breakfast sandwiches. We do home fries or fried potato pancakes. At lunch we do stuff like cold sandwiches, hot sandwiches, burgers, tacos [and] quesadillas. We try to keep it varied so we don't just make the same stuff over and over again."
Grodof hoping other students will join the program and love it just like he does.
"I would recommend the class to incoming students who want to follow the culinary program as a career," Grodof said. "Be ready to put in a lot of work. Don't go in thinking it's going to be really easy."
Leave a Comment
About the Contributors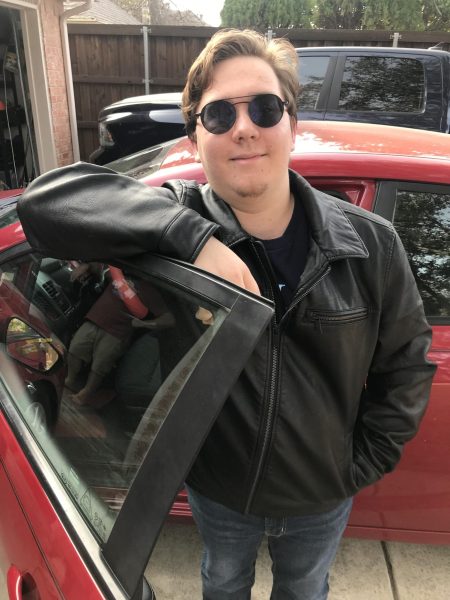 Trent Neighbor, Staffer
"I like playing video games, and in the future, I want to be a history professor. I took journalism because I like meeting new people."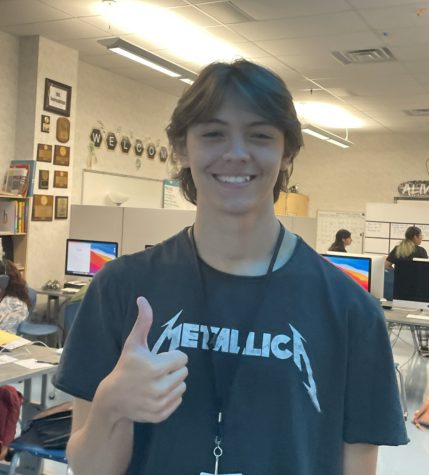 Camden Briggs, Staffer
"I enjoy being outdoors and playing baseball. I chose this class because I did it last year and it was fun."