'Night School' Review: A Work Well Done
Laughter is an amazing feeling. Just sitting down, relaxing and taking pleasure in a humorous and touching film is always a fun activity. That's why "Night School" is the instrument to make your day. A touching, eye-opener which deals with different themes appreciated by the young and old of today, "Night School" holds the power of a new and promising movie.
"Night School" is about Teddy Walker (Kevin Hart), who, despite not having graduated high school, ends up with a decent job and lovely fiancé, Lisa (Megalyn Echikunwoke). Everything is going well until an accident leads to Teddy losing his job. The only way he can get his life back on track is to return to high school and earn his GED. During his time in night school, he meets new people and old acquaintances, and he copes with the hard work and amusing events that ensue.
"Night School" is a comedy, and it succeeds in that department. There isn't any dead air or boring, slow-moving points. It's exactly what one would expect from Kevin Hart, but it wasn't just dumb slapstick humor. Tiffany Haddish also holds nothing back, with her character's subtle and straightforward approach when stating her opinions or dealing with people's attitudes and schemes.
Another part of the movie's appeal was the devotional romance. Teddy's goal of obtaining a better job and creating a better life for his fiancé is his biggest motivator for going to night school. The couple's loving moments give a short reprieve from all the ridiculous occurrences. The relationship is an important part of the plot because it is where the film really starts off and helps carry the rest of the feature.
Despite all the carefree moments, the movie presents a touching message by portraying the people in the school — adults, children, and staff — in a relatable and emotive style. It brings to light some of the struggles any and all students have with the work they are given, as well as the effect of it. The work could discourage someone to not do their best or add an unhealthy and unwanted stressor to their life. The film also discusses the roles and treatment of teachers. The treatment of the teachers is expressed partly through comedy but is also shown in a more serious light which, in my opinion, helps bring out the realism in the subject.
However, there were portions of the movie I deemed unnecessary. With all the comical and pleasant scenes, director Malcolm D. Lee still felt the need to use one too many odd and inappropriate jokes. Yes, sometimes those can be entertaining to some people, yet I felt in some scenes that they just added lines, not content, to the film.
Even though it was a good movie, "Night School" wasn't very defining to the comedy genre. It has the same feel and attitude as many other Kevin Hart movies, like "Ride Along" or "Central Intelligence," although that is what some audiences enjoy. Either way, with the love, growth and hilarity in the film, it was still a great movie that I recommend. "Night School" deserves a B+.
About the Writer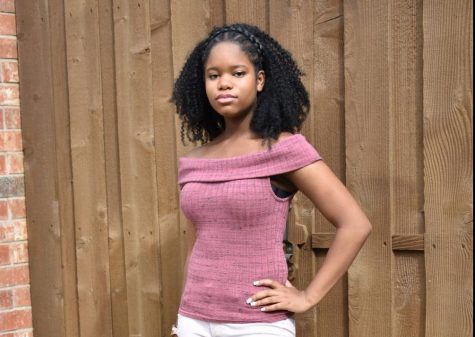 Kennedy Jackson, Editor-in-Chief
Senior Kennedy Jackson, or KJ, cares deeply about community and black pride. She uses her free time for writing, photography, and reading & watching...