Review: "Thinking Out Loud"
Hang on for a minute...we're trying to find some more stories you might like.
It isn't too often that an influential voice in the world of rap gets shot at twice in a year. Twice. All of this happened in the same year, and Young Dolph is still alive and well to make music. After being shot in September, Dolph released his new album: "Thinking Out Loud."
The shooter was supposedly Yo Gotti, who was initially a fan of Dolph's work but turned against him after a series of mishaps. It all started when Dolph declined Gotti's record deal, and ever since then, there haven't been any friendly interactions between the two Memphis rappers. Dolph crowned himself as "The King Of Memphis" in a past album, and that was a defining moment that seemed to start the violence.
On Sept. 26, Dolph was shot outside of Shoe Palace in Hollywood, and unlike the last shooting, blood was drawn. Dolph was immediately sent to the hospital to be treated. An associate of Yo Gotti's was arrested and charged for attempted murder according to Los Angeles police reports, but other than that, there weren't any more accusations in the case. The last time that Dolph was shot, he released an album shortly after the shooting, making sure that the world knew that he wasn't going to be stopped. This second shooting prompted Dolph to release an album to represent his return to rap after a setback. Dolph said he made "Thinking Out Loud" to prove those out to get him that he wasn't going to stop his passion, regardless of those who try to stop him.
Like any Young Dolph album, the songs are incredibly exciting. There is a message, but unlike most rappers, Dolph conveys this message through his unique music style. He has traditionally always had beats made to pair with his voice perfectly, giving his music a hard, street-like feeling, which can be heard in "Thinking Out Loud." A couple of songs are no doubt going on my pre-game playlists because of how hard the music hits.
I would have to say that "Eddie Cane," "What's the Deal," "Go Get Sum Mo" and "While U Here" are definitely the most memorable songs on this album. I absolutely love Dolph when he's heated or when he has something serious he wants to say, as he has the ability to absolutely go in on a hard, trap style beat. All of these songs embody that street, trap style that Dolph does so well.His message also reflects that style. After being shot, he touches upon the idea that he wants to do all that he can in life while he's here, like in "While U Here." Dolph has truly been through a lot in the past year, and it shows through the blood, sweat and tears he puts into the songs released on this album.
One song that isn't hype is "All of Mine," and I really don't like it. I may be biased because I really don't like DRAM, but I really don't feel like DRAM was a good artist to feature on this album. I don't think his musical style suits Dolph's music, and it kind of makes the whole song seem kind of goofy. This song sounds like Dolph attempting to make a song that will make it onto top charts;it sounds a little too much like a typical song that someone would hear on the radio.
This whole album gets a solid A-. The only reason that I would take off from any of Dolph's music is because I fear that he's trying to make music that will settle well with pop culture. Dolph has a creative style that is unlike any of the other popular rappers right now, and he definitely utilizes that in a majority of this album. "While U Here" is a fresh incorporation of a street style rapping that helps diversify popular rap music.I believe that Young Dolph deserves to be appreciated more for these contributions to the rap world.

About the Writer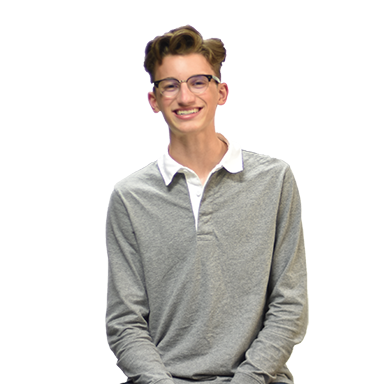 Tate Peterson, Photo editor
Senior Tate Peterson likes photography but will not identify as a photographer, likes fashion and loves his Spotify playlists. He plans on going to school...