Allen adopts Kingwood High School
Hang on for a minute...we're trying to find some more stories you might like.
Several club leaders have chosen to adopt Kingwood High School in response to the damage caused by Hurricane Harvey. The club leaders met after school on Sept. 6 and chose to fundraise for and support Kingwood, which is part of Humble ISD in Houston, Texas.
"[The students] decided that Kingwood was in need of help because it got completely flooded out and they are not able to get back inside their school this year," senior Linus Emmett said. "They are having to travel 40 minutes to a different high school to learn, which really stuck with a lot of us."
In order to raise money for Kingwood, student leaders have organized a variety of fundraisers, including a three-on-three basketball tournament and a bake sale.
"It inspires me to see students that want to do good in the community and to love on others," Peer Assistance and Leadership sponsor Jennifer Clements said. "Any time students lead with ideas and creativity, it makes me so happy."
The basketball tournament will by played on Wednesday, Sept. 27, at 5 p.m. in the Allen High School competition and auxiliary gyms. There is a $20 entry fee per team, with a $2 admission price to watch. In addition, students will host a bake sale outside the cafeteria from Sept. 27 to Sept. 29.
"[Students will also be] taking donations at the Allen volleyball game and the community pep rally, and we're taking donations during lunches," Emmett said. "So if somebody really wants to get involved with it, they can find a donation box or sign up to help."
Seniors Tate Peterson, Emily Walsh, Brock Sturges and Parker Primrose as well as pre-calculus teachers Mike Brown and Eric Torrence have entered in a competition to see who can raise the most money, with the winner being covered in silly string during the homecoming pep rally.
"It's amazing seeing so many students care about completely random people that they've never met," Emmett said. "It just shows the culture at Allen, how we're all caring. It's just insane and heart-touching, I love it."
If students, faculty or parents would like to support the fundraiser, they can give donations during any Allen lunch, at the Allen girls volleyball game on Sept. 22 or during the community pep rally on Sept. 25. Donations can also be made by purchasing a T-shirt designed by Allen students and staff here, with 100 percent of the proceeds going towards Kingwood High School.
"It is so inspiring to see all the club leaders really try to do their part to help a group of people who are really in need," senior Britney Yakum said. "[I just want Kingwood to know that] we love you and we support you. We just want to help get you guys back to your school."

About the Writer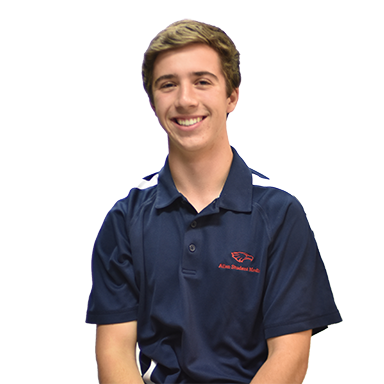 Parker Primrose, Sports editor
Senior Parker Primrose is a huge Denver Broncos fan, has a golden retriever for a brother and loves the movie Forrest Gump. Primrose plans to attend [insert...