Girl's Golf Finishes Fourth at State
Hang on for a minute...we're trying to find some more stories you might like.
After an exciting finish, the Allen girl's golf team wrapped up their season with a fourth place finish in the Texas UIL 6A State Championship on April 26 at the Legacy Hills Golf Course in Georgetown.
Junior Amber Park led the team in the tournament, tying for 15th individually with 150 points. The team as a whole finished in fourth with 626 points, putting them behind third-place Montgomery by eight points, second place Austin Westlake by 19 points and first place Lake Travis by 46 points.
"I would say it was a lot better than last year," Park said. "We've improved. I think we finished last year in fifth place, and we finished fourth this year. The first day was a little rough for all of us, but I think playing the course once last year helped a lot."
The tournament marked the seventh consecutive year that the Lady Eagles golf team played in the Texas UIL 6A State Championship and their fourth place finish represented their highest placing since they won the title in 2014.
"One thing we want our players to take away from it is that you have to earn your way to state," head coach Karen Gravely said. "You don't get to go there just because you were there the year before. The fact that we earned our way there again is what I hope they will take away and help them as they prepare for their summer tournaments, and for some of them, their college careers."
The team entered the state tournament coming off of a Region 1-6A Championship in which they beat Southlake Carroll by seven points and Amber Park finished as the Region 1 runner up with 149 points.
"This year my team really counted on me because we lost a senior," Park said. "I think I was able to perform well under the pressure. I had a lot of support from my team."
Although the team didn't finish the season as well as they hoped, head coach Karen Gravely said the setback can only make them stronger.
"I'm very proud of the girls, proud of what we accomplished this year on individual basis and as a team," Gravely said. "I know some of them are disappointed, and I hope that disappointment will only carry over to make them want to play harder and achieve what they know they're capable of achieving."
Going into the 2016-2017 season, the girl's golf team aims to maintain their level of success and win their ninth consecutive district title.
"Our prep now is that we want to be in the same place next year that we are right now," Gravely said. "And obviously every year we go we'd like to have a chance to win that title. We start pursuing that now for next year…I'm very proud of this [year's] group of girls that have continued the legacy that had been set before them. I'm looking forward to next year, and having that group of girls pick up the gauntlet and carry that legacy forward."

About the Writer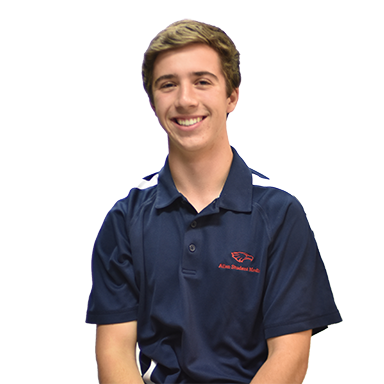 Parker Primrose, Sports editor
Senior Parker Primrose is a huge Denver Broncos fan, has a golden retriever for a brother and loves the movie Forrest Gump. Primrose plans to attend [insert...