Matchmaking
Allen High to hold Bone Marrow Drive to find match for sick student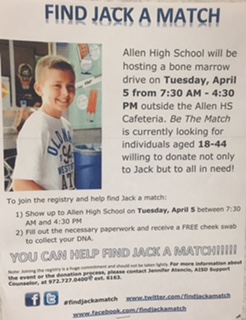 In almost every way, Jack Armentrout is no different than any other Allen freshman. He loves spending time with his family and friends and playing the drums. However, as a young child, Jack was diagnosed with a rare genetic blood disorder: Fanconi Anemia. This recessive disorder has led to bone marrow failure for Jack, prompting him and his family to reach out in hopes of finding someone with matching marrow they're willing to share.
"This can give a second chance in life for the patient/recipient," Clifford Ackerman, head of the National Bone Marrow Registry, said. "It impacts not only the patient, but also their family and friends."
The high school is hosting a bone marrow drive Wednesday, April 5  as part of Remembrance Week to honor students Allen has lost and to help those who are currently in need. The week is part of student Kayla Padol's ISP.
"When [Padol] and I met, as I am overseeing her project, I mentioned the bone marrow drive," Support Counselor Jennifer Atencio said. "We had one last year for [Jack]."
Since Jack was in 5th grade, Atencio and other members of the community have put together similar drives in hopes of finding Jack's match. So far, their search has been unsuccessful.
"On average, 1 in 500 Be The Match Registry members go on to donate to a patient in need," Ackerman said.
With no members of the family a marrow match, Jack is relying on the generosity and kindness of his neighbors and classmates.
"[The drive] is not only for school students and staff," Atencio said. "Parents and anyone in the community can come."
Tables will be set up outside the cafeteria from 7:30 a.m. to 4:30 p.m. The testing process is only one step: a DNA sample obtained from a cheek swab is taken and sent off to the lab for results to be placed into the national database. If a match is found, the National Bone Marrow Registry will soon be in contact.
"The database is not only for Jack and other patients in the U.S., it's international," Atencio said. "So we may potentially have an Allen High School student that might match up with a 45-year-old man out in Europe somewhere."
The National Bone Marrow Registry's goal is to to help any and all patients who are in need of bone marrow.
"Basically, [the drive] is for students who genuinely want to be on the registry, and we hope that will be able to find a match for Jack. If not him, then the hope is we'll find a match for someone else," Atencio said.
Please consider joining online if attending  the event isn't possible or just want to help bring awareness by sharing the online drive. Please go to http://join.bethematch.org/texas  to join as a committed new member. A swab kit will be mailed. Just mail it back ASAP.