Pregame Perspective: Allen Eagles vs. Lake Travis Cavaliers
In a clash of Texas football titans, the Allen High School Eagles (15-0) will take on the Lake Travis High School Cavaliers (13-2) in the Texas UIL 6A Division I State Championship game. Kickoff will be at 3 p.m. Saturday at AT&T Stadium in Arlington.
Lake Travis comes into the game looking for its second consecutive state title and its seventh in the last 10 years. Last year's win was by a score of 41-13 against The Woodlands High School, who defeated Allen in the semifinals 36-28 the week before. Allen enters the state game hoping to win its first title since 2014 and its fifth title in the last 10 years. This year marks the first time Allen and Lake Travis have been in the same division and been able to play each other.
The Cavaliers are led by a potent offense that averages 44 points per game. Senior quarterback Matthew Baldwin, an Ohio State University commit, has passed for 3,842 yards and 44 touchdowns on the season. In addition, Baldwin is second on the team in rushing with 425 yards and nine touchdowns, displaying dual-threat ability and acting as the leader of the Cavalier offense. However, Baldwin injured his meniscus in the team's win over Katy High School last week, causing concern for his ability to play at a high level on Saturday.
Baldwin is aided by a dynamic receiving core highlighted by junior wide receiver Garrett Wilson and sophomore wide receiver Hudson Card. The duo combined for 17 receptions and 211 yards against Katy last week, and have compiled 2,812 receiving yards and 39 touchdowns this season. Lake Travis' running game is not anchored by one player, but as a whole the team has been able to rush for 2,064 yards and 31 touchdowns.
Tasked with shutting down the Cavalier offense is an Eagle defense that has been stout all year. Allowing just 14.7 points per game this season and just 107.2 passing yards per game, the Eagles will rely on their athletic front seven and rangy secondary to neutralize the Cavalier attack. Among the key players entering the game is senior safety Taj Bickham, who has caught an interception in three of Allen's five playoff games.
The Allen offense is led by a dominant rushing attack and a lethal deep ball. Senior running back Brock Sturges has rushed for 1,985 yards and 27 touchdowns, acting as the centerpiece for a team that has gained 3,988 yards on the ground this year. Also serving as a threat on the ground is junior quarterback Grant Tisdale, who has rushed for 945 yards and 14 touchdowns.
In the air, junior wide receiver Theo Wease is the main threat, having caught 53 passes for 852 yards and 14 touchdowns this season. Although Tisdale has only averaged 11.8 pass attempts per game, Wease has forced opposing teams to scheme around him and is nearly unstoppable on jump balls. As a whole, the Eagles have averaged 151 passing yards per game this season and haven't turned the ball over for 10-straight games.
The Cavalier defense has been inconsistent this season, giving up 96 points over two weeks during one stretch of the season, then putting together back-to-back shutouts the next stretch. Overall, the defense has given up an average of 21.5 points per game, but that number has dropped to 12.3 points per game over the last three weeks. In addition, Lake Travis has forced 12 turnovers during the postseason, showcasing their ability to make big plays and capitalize on the opposing team's mistakes.
Final prediction: 28-24, Allen.
For more information on Saturday's game, go to theeagleangle.com or follow our Twitter, @theeagleangle.
About the Writer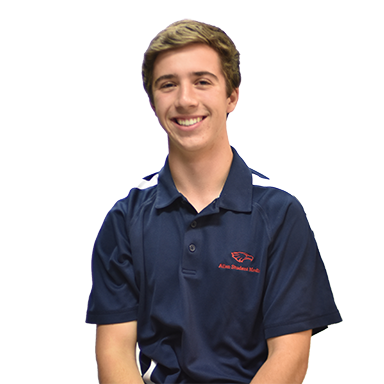 Parker Primrose, Sports editor
Senior Parker Primrose is a huge Denver Broncos fan, has a golden retriever for a brother and loves the movie Forrest Gump. Primrose plans to attend [insert...