Sweet state of mind
Hang on for a minute...we're trying to find some more stories you might like.
The Allen Eagle Men's Volleyball team put a cap on their season with a 3-2 victory over Prosper at Ereckson Middle School on May 18. The Allen Eagles, in just their second season of existence, finished the season with a 7-1 record in addition to their state title.
"It's a great feeling to see all the hard work come into its own," coach Gregg Naranjo said. "It's two years in the making. It's been a lot of trial and tribulation in watching a group of guys turn into a group of athletes, and it's been fun to watch."
The championship came in a winner-takes-all fifth set victory over Prosper. Allen started hot by winning the first two sets, but Prosper battled back to take the next two sets and push it to a fifth. In the final set the Allen Eagles won it 15-11.
"It was nerve-racking," junior Justin Guffey said. "But once we got the lead, that's when we knew we had it. We really feel like we have the program in the state, and it shows in our winning."
The team was aided in their effort by a large home-crowd, as the game was played inside the city of Allen. Fans supported the team in volume both in person and via social media as the club pushed for its first state title.
"I was impressed by the turnout," coach Stevie Mayberry said. "We were competing with spring football and we were competing with baseball playoffs [for fans]. But [the students] showed up. They made it electric. They made it happen. At one point the Prosper coach was complaining about kids getting too close to the [court] and kind of trying to push them back. A couple of plays happened and they just erupted."
The state title puts a bow on the Eagles season, and according to sophomore Noah Brown, offers the team a sense of redemption.
"We had the 'unfinished business' motto from last year, and tonight we finished our business," said Brown.

About the Writer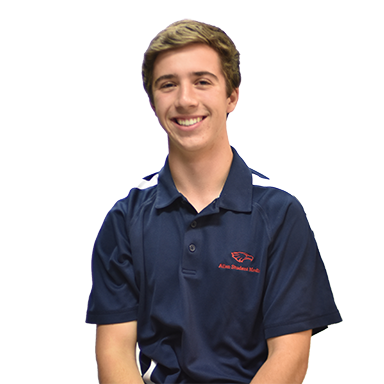 Parker Primrose, Sports editor
Senior Parker Primrose is a huge Denver Broncos fan, has a golden retriever for a brother and loves the movie Forrest Gump. Primrose plans to attend [insert...