Springing into gear
Hang on for a minute...we're trying to find some more stories you might like.
Coming off a perfect 10-0 regular season and a trip to the semi-final round of the playoffs, all while under the direction of a new head coach, most teams would feel like their season was a smashing success. But for the Allen Eagle football team, their recent success has only pushed them to work harder this spring as they prepare for next season.
"Last season went well, but obviously we came up short," junior linebacker Jace Waters said. "Being an Allen Eagle, just making it to the semis isn't good enough. You're expected to make it to state every year."
Head coach Terry Gambill was hired last February to replace former Allen head coach of 12 years and four-time state champion Tom Westerberg, and along with him he brought a new coaching style and offensive system.
"[Coach Gambill's] trying to make us better men before football players, so I really like him," sophomore wide receiver Theo Wease said. "We transitioned very well as a team. Even though we came up short in the end, we still bonded."
In the first year of Gambill's system, the Eagle offense put up an average of 42 points and 402.2 total yards per game while led by senior quarterback Mitchell Jonke. As Jonke moves on to Brown University, the expected starting quarterback for the Eagles next season is sophomore Grant Tisdale. In limited action last season, Tisdale threw for 522 yards and six touchdowns.
"I got to sit behind and learn from somebody that's played the position for two years, has been through the hardships, been through the easy stuff," Tisdale said. "It was good to see what it was like to just play and just witness what's going on during games."
Although Allen has a history of high-caliber quarterback play, from four-star quarterback Alec Morris to Gatorade Player of the Year Kyler Murray, Gambill stressed the importance of remembering that football is a team sport and success is dependent on more than one player.
"Whether it's quarterback or any position, you can't look at it like 'okay, I'm out here by myself.' There are 11 football players on the field," Gambill said. "For all of us, whether it's offense or defense, whether it's the quarterback or whether it's the mike linebacker, the most important thing is for you to do your job. So if we all do our jobs, then we're going to be very successful as a team. You can't look at it like 'okay, I've got to go win the game, I've got to go do this.' No, you've got to do your job and you've got to do it well."
On the defensive side of the ball, the Eagles are coming off of a season in which they allowed just 16.3 points and 303 total yards per game. Despite the upcoming graduation of key contributors like senior linebacker James Tupou and senior defensive lineman Cole Maxwell, the core of the defense still remains in the presence of juniors like linebacker Jace Waters and defensive back Jevon Jones.
"It's going to be tough without [Tupou and Maxwell], but I have confidence in the players that are next up," Jones said. "That's the good thing about Allen, there's always the next man up."
With the season's opening game against Cedar Hill still about four months away, the identity of this year's football team is still yet to be determined. However, the goal of the team is crystal clear. As Wease put it:
"I see a state championship this year."

About the Writer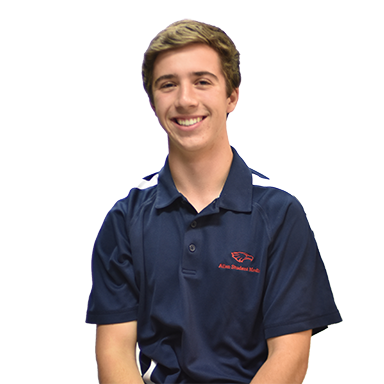 Parker Primrose, Sports editor
Senior Parker Primrose is a huge Denver Broncos fan, has a golden retriever for a brother and loves the movie Forrest Gump. Primrose plans to attend [insert...