Artists of Allen: Andrea Gomez
Hang on for a minute...we're trying to find some more stories you might like.
"I like to stay positive, and it's really hard for me to express myself like that, so when I'm thinking really negative I try my best to start focusing on the positives again. That's why I made my Uniformity piece, because I think if everyone united they would be way happier. I drew the world in the background because I want it to apply to everyone. I'm Hispanic, so that's my heritage being represented by my La Niña piece that has the little girl on it. I love my heritage and I really wanted something that could show that. Here's my '64 Impala piece, and it basically represents my personality because I grew up in California, and there's a lot of violence, gangs and lowriders, but what you would think brings violence brings out so much beauty. I have uncles who make these lowriders with beautiful paint jobs, and they're a part of car shows that benefit the community, so it's not just violence that happens in these parts of California, which made me want to show the better side visually with the painting. I really want my work to convey unity and just staying positive, something that can apply to all people."

About the Writer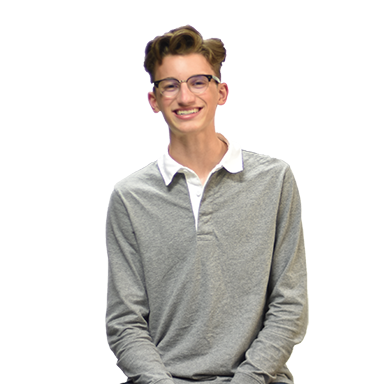 Tate Peterson, Photo editor
Senior Tate Peterson likes photography but will not identify as a photographer, likes fashion and loves his Spotify playlists. He plans on going to school...