Eagles Win in a Battle with the Bobcats
Allen Eagles prove the doubters wrong with a win in San Angelo
Hang on for a minute...we're trying to find some more stories you might like.
On the road in a hostile environment, the Allen Eagles emerged victorious against the San Angelo Central Bobcats, winning 34-21 at San Angelo Stadium to advance to the quarterfinals of the playoffs.
The game was set up as if scripted in a movie. A city with a $60 million dollar stadium and four state championships to its name versus a town in the middle of nowhere in west Texas. Over 20,000 fans attended the game as the rain poured into the arena covered by Friday night lights. The stadium rocked throughout the game as both groups of fans tried to cheer their team to victory.
"[The fans] help us so much," linebacker Jace Waters said. "I don't even think they realize how much it means to us. Just having the support we have, it's the best in the nation probably."
The story of the night was the Eagles' potent ground attack, as they racked up 324 yards rushing at 6.8 yards per carry. Running back Brock Sturges was the workhouse, carrying the ball 22 times for 152 yards and two touchdowns. Quarterback Mitchell Jonke didn't have the greatest game statistically but he was able to put together several big plays, connecting on a 43-yard strike to Carson Schleker for a touchdown as well carrying it himself for a 44-yard touchdown. Jonke finished the night with 220 total yards and three total touchdowns while completing almost 40 percent of his passes.
"This is what we play for," wide receiver Josh Cornell said. "We just came in here, took care of business, and now it's going to be a nice ride home."
Defensively, the Eagles kept their momentum from last week's matchup against Belton, as they shut out San Angelo in the second half. The Allen secondary allowed just 193 yards passing, while the defensive line lived in the Bobcat backfield and accumulated several sacks. Defensive back Jevon Jones in particular had a great night, as he caught an interception and helped limit the Bobcat's star 6'8" wide receiver. The defense did give up 132 yards rushing at 4 yards per carry, but they forced two fumbles and two interceptions.
"Everybody executed and did their job," Jones said. "I personally just had to stay focused and take it play-by-play. I couldn't let myself get too high or get too down and just had to stay locked in."
Special teams also played a key role in the game, as kicker Michael Ewton made two 48-yard field goals in harsh conditions in addition to making all four of his PATs. Schleker had one muffed punt that set up a San Angelo touchdown, but otherwise he did a solid job of fielding the soaking wet ball.
"It only gets bigger [after this]," Cornell said. "Now we're on to round four. We've got to put this one behind us and keep going."
Next week the Allen Eagles will kick off at AT&T Stadium at two o'clock in the afternoon against either Bowie or Duncanville, depending on who wins on Saturday. Stay up with all the action here at The Eagle Angle.

About the Writer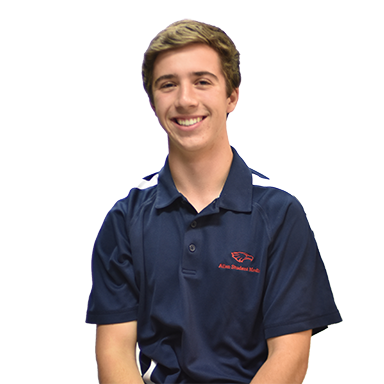 Parker Primrose, Sports editor
Senior Parker Primrose is a huge Denver Broncos fan, has a golden retriever for a brother and loves the movie Forrest Gump. Primrose plans to attend [insert...