A Look At Life in Foster Care
"We want you to help us and we want you to believe us."
Most people grow up not worrying about when their next meal is or if they can brush their teeth at night, but for Sara, this was an everyday reality for the first eight years of her life. Sara is a student at Allen High School and her name has been changed to protect her privacy. Growing up, she didn't have loving and supportive parents instead, she was put in the foster care system at age one, but wasn't officially placed in a foster home until age nine and later adopted. This is her story living in the foster care system.
"I got put in because my [biological] mom, and my stepdad did drugs and were abusive and just couldn't take care of us," Sara said. "My biological mom had me at age 16. She wasn't ready to be a mom."
Sara said her biological parents taught her how to steal from an early age in order to get by. Oftentimes, money that was supposed to be spent on groceries or other necessities was spent on drugs.
"Stealing is how you get by, especially if you're in my situation where we didn't have a lot of money. Like I was taught to start stealing from gas stations at like age five," Sara said. "You know, I learned how to hide stuff [in] my mom's pockets or something," 
When Sara was finally removed from the care of her biological parents all she owned was a trash bag and a pile of old clothes. Unfortunately, most children entering foster care have little to no belongings and move from home to home with only a trash bag. 
"I think I had like three pairs of pants, all of which were way too big for me. I had a few shirts, most of them were boy's clothes; I had a pair of Jordans, that were boy's shoes. But it was all in a black trash bag, and that's what I came with,"  Sara said. "We just pick up and go and hope that our next family will, you know, have stuff for us."
Luckily, Sara's foster family was the right fit for her and took her shopping so she could get the clothes and belongings she needed to live comfortably, even if it's just something as simple as a stuffed animal. 
"When I got my first electric toothbrush, I remember being so excited, like, it was like Christmas all over again, it was the best thing in the world to have an electric toothbrush and some fancy toothpaste, you know, it's the little things like that, or having even just a stuffed animal to sleep with at night," Sara said.
Before being placed in foster care, Sara was falling behind in school. This was because she lacked a supportive learning environment, and had untreated learning disabilities. Something as simple as having someone help her with homework helped get her caught up. 
"Having parents that will, you know, sit down with me and work on some homework helped me get back on track. And then, at some point in time, I got above, especially in my reading level. I started to get above my grade, which is, when you think about it, it's just astonishing because I was so behind," Sara said.  "It's very possible that I was a year, two years behind in my schoolwork, just because I was so put down. I was told so often that I was lying that I just, I didn't care anymore."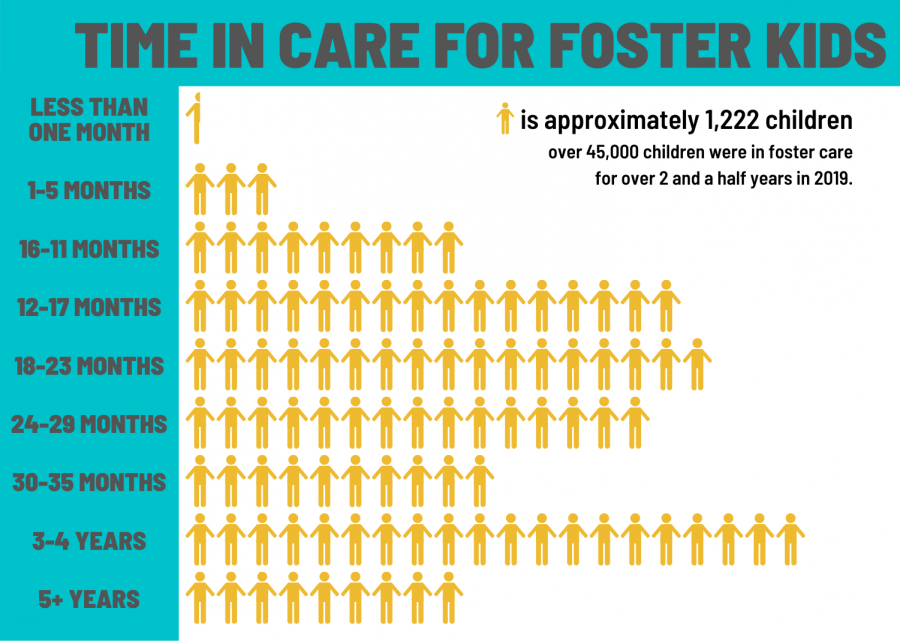 Sara is one of the lucky ones. Last year, over 20,000 kids waited 3-4 years before being adopted. Unfortunately, many siblings in foster care are also split up and go to different foster families. According to the Children's Welfare Bureau, splitting up siblings can cause social and emotional problems for children in foster care. Thankfully, Sara and her sister were kept together. 
"I actually was in foster care for about a year, and then my foster family that I was put with is the family that adopted me. Me and my sister were not split up, that's how my situation is different," Sara said. "Because we weren't split up, and second of all, we didn't have to go to different foster homes. We were in one foster home, and we got adopted by that same one."
When the time came for Sara to finally leave her parents for good and go to her new foster home, it was both scary and exciting but was ultimately a new beginning.
"So I was terrified, but believe it or not, when I finally got taken out, I was smiling. I was so happy, I was ready. I knew that the way I was raised was wrong, I was well aware that what was happening was wrong, and I'd always wanted to get out," Sara said. "I used to tell my counselors all the time, 'take me out, I don't want to be at my house'." 
After Sara was adopted, her quality of life improved and she finally found a safe and loving home where she was able to thrive. 
"I was finally, you know, starting to become more stable and more healthy with my disorders and my eating," Sara said. "I was eating healthy, and I was being treated correctly. I had a family that knew how to take care of me."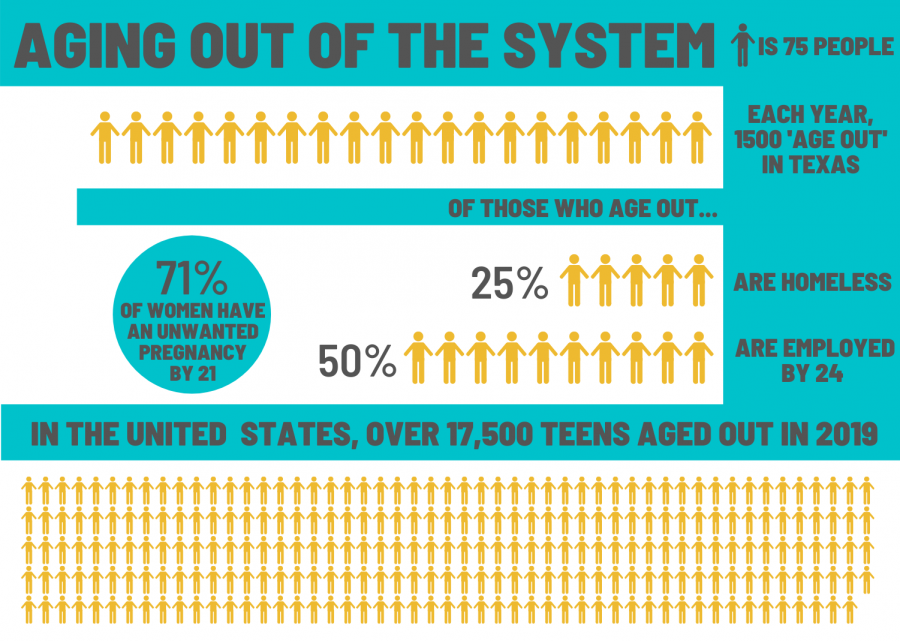 According to Jonathan's Place, an adoption agency in Garland, Texas, as many as "1,500 young adults in Texas 'age out' of foster care," each year. In 2019 alone, more than 17,500 teens in the US aged out, and more than 423,997 children were in foster care in 2019. People who aren't lucky enough to be adopted like Sara are at a higher risk of being arrested, being jobless, or falling into homelessness. Even kids in foster care that are placed with a family don't always end up in a good situation.
"I had a much different experience than a lot of my friends [do], a lot of my friends go to five different foster care houses before they get put in the one that adopts them. Even then, when they get adopted, that adopted family is abusive or something," Sara said. "Some people just do it for the money. I'm lucky that I didn't have a family that does it just for the money, they didn't abuse me." 
Jonathan's Place offers everything from an emergency shelter for children, to transitional living for teens that will "age" out of foster care. Luckily, Sara and her sister were adopted from Jonathan's Place almost eight years ago. Jennifer Maddox, the Director of Foster Care and Adoption at Jonathan's place, worked on Sara's case.
"Sara was adopted in 2014. I was the family's case manager at the time." Maddox said.
CASA workers are volunteers and becoming one is a job that is open to anyone. These workers advocate for a child during the foster care and adoption process. Collin County Child Advocate, Mary Rowley, explained how they support children in foster care. 
"I feel we help by advocating for the child's best interest in all aspects of their life from the beginning of the case until the close (and sometimes after), i.e. medically, educationally, in court hearings and living arrangements," Rowley said. "We are there to listen compassionately to the child and help guide them through the whole process."
Throughout the foster care and adoption process Court Appointed Special Advocates are a stable presence in kid's lives. Sara had a CASA worker that made sure she had adequate food and clothing. 
"I don't really remember her, not gonna lie. I was, you know, I was younger and, I'm not gonna lie, a lot of that stuff I've kind of pushed out of my mind intentionally. But I know that I liked her. I know that I loved her. She came to a few of my birthday parties and she gave me gifts and stuff," Sara said. "They [CASA] had to come and make sure that we had enough food in the fridge or our smoke alarms were working, or, you know, we had toothbrushes and health things, and we had clothes, and we were in our own rooms and stuff like that. So I know that if it weren't for her, I would not be where I am today."
There's one thing that Sara wants people to take away from her story and experience with foster care: believe children, don't write them off as begging for attention. 
"I think one thing that I do want known is that what we don't want is your pity. What we want is your trust. We want you to believe us when we say that my parents are abusing me. Or, you know, when we come to school with bruises or cuts or stuff and we say, "No, I'm fine." We're not fine," Sara said. "There's always more to the story. And I think the biggest thing is that you know, people need to look and find out what the rest of the story is before they say we're lying."
For more information on CASA, Jonathan's Place, or foster care resources please visit the websites hyperlinked above.