COVID-19 Stadium Regulations
The 2020 varsity football season has changed a lot from previous seasons, especially in regards to ticket purchases, seating, and spectator expectations within the stadium. New procedures for the Eagle Stadium are in place to assist with COVID-19 concerns. 
Everyone will be required to purchase a ticket, except children under the age of three, for each game. Tickets will be available to buy from a link on the Allen ISD Athletics Department home page. No passes or season tickets will be accepted. Season tickets purchased for the 2020 football season will be automatically credited for the 2021 season. A refund for 2020 season tickets is available by contacting Jeff Chaney, stadium manager. The games will also be live-streamed for fans who don't attend the game in person.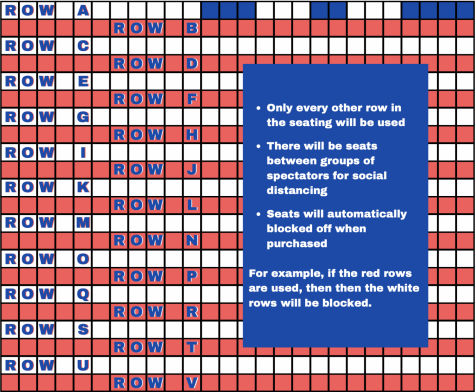 Tickets for the home football games will be reserved seating, sold online only during the game week. Only every other row will be available for seating. There will be additional seats automatically blocked on each side of a ticket for social distancing. If spectators wish to sit together, the tickets must be purchased together. 
There will be a presale of tickets from Monday at 8 a.m. to Tuesday at 7:59 a.m. for the parents/guardians of student participants in the games , with a limit of four seats per purchase. The student participant's last name and ID will be required to make the purchase. The general public will be able to purchase tickets starting on Tuesday at 8 a.m. up until to the night of the game, with a limit of six tickets per purchase. Tickets for the student section will be sold online starting at 8 a.m. on Monday, and only 410 tickets will be sold. No student section tickets will be sold on the day of the game.
Spectators of the game must be symptom-free before arriving at the stadium. They are expected to self-screen for COVID-19 symptoms and wear masks or face coverings within the stadium. Signs will be posted at the entrances of the stadium advising spectators to not enter the facility if they experience symptoms of COVID-19. Spectators are expected to practice social distancing within the stadium, and won't be allowed on the field.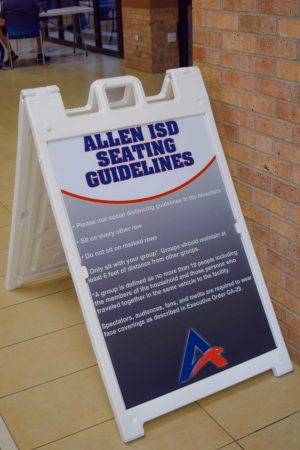 Within the student section, students will sit in every other row, sitting aligned with the student section leader sitting in the front row, with space between every single student. On the day of the game, students will enter the student section through Gate B. Seniors will be able to enter at 5:30 p.m., and other students will be able to enter at 6 p.m.. Staff will be monitoring the student section to ensure that students are following the rules, such as wearing a mask (unless eating or drinking) and social distancing. 
Although the student section is different, not everything has changed. There are student section shirts available to purchase, and the student leaders plan on having themes for the student section. The theme for the game on Sept. 25 is "USA," and the student leaders are urging the students to come dressed in red, white and blue. Student leaders are hopeful about the success of the student section, as it is dependent on students following the rules.
"We've got one chance at this. A lot of [high schools] are not doing student sections. We're saying our kids are mature enough and can do it – they've been complying awesome in school, wearing their mask and doing what we're asking them to do," JD Walker said. "If you want to have a student section, you'll have to comply with the rules, and you'll be removed if you continue to not wear your mask and not comply with social distancing."
Leave a Comment
About the Contributor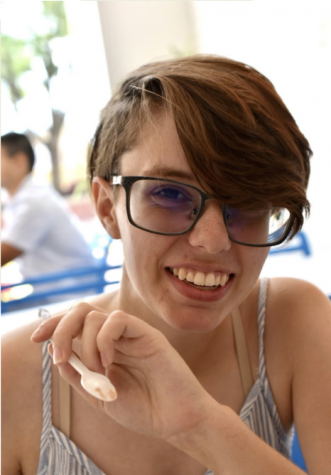 Paige James, Social Media and Website Manager
Paige James loves to read, write, and is passionate about listening to and playing music. She wants to major in Communications and Media in college.