Chadwick Boseman: A Tribute Fit For A King
"Your light brightened our days. It will continue to brighten our hearts and minds. Let the heavens be blessed as you illuminate the sky. Sending my love and prayers to the family. May God continue to hold you in his everlasting embrace." – Forest Whitaker
Chadwick Boseman was born and raised in South Carolina. His dream was to write and direct and his passion for the subject started at an early age. His interest in art and activism showed its face during his junior year in high school when one of his basketball teammates was shot and killed. This tragedy sparked Boseman's first meaningful work when he wrote his first play, "Crossroads", and staged it at T. L. Hanna High School that same year.
Boseman pursued his dream by attending Howard University and gaining a Bachelor of Fine Arts in directing. He initially began studying acting to learn how to relate to the actors he planned to direct. From the year 2000, Boseman continued his education in the arts and graduated from New York City's Digital Film Academy.
Boseman was the first solo Black movie superhero to headline his own franchise in the Marvel Cinematic Universe and before that played defining roles as Jackie Robinson in "42", James Brown in "Get On Up", and Thurgood Marshall in "Marshall". These were more than just acting jobs. These were moments in Black history that are important to how we live now. They helped set the stage for the future and Boseman put his heart into those performances to show that. Jackie Robinson's daughter said Boseman felt the anguish and frustration her father felt and really built on Robinson's character accurately, and James Brown's daughter said she is forever indebted to him for bringing her father's story to life like he did.
"Black Panther" was a milestone. It showed not only a member of the black community as a hero, but as a person. The movie expanded African American representation to roles representing people in power, people with strong hearts, intellectuals, fighters and more. It shows that humanity for every race is multifaceted. 
Not only that, the movie delves deeper into what it means to be Black through African heritage, portrayed by King T'Challa, and the culture that Black people have created in America, portrayed by Killmonger. Boseman truly worked hard to help make this movie as great as it could be by pushing for the Wakandans to have an african accent and to speak Xhosa, as well as having them dance at T'challa's coronation and having Killmonger ask to be buried in the ocean.
Chadwick Boseman was not just a great man; he was a symbol to how far African Americans can go. As far as black representation in Hollywood goes, many Black actors have been typecast only for their race and not for their skills or contributions to the plot of the film. Boseman and the people around him, such as Denzel Washington who paid for him to attend an Oxford acting program, have worked hard for his success to bring African Americans up as a whole. "There is no Black Panther without Denzel Washington," said Boseman; because when one of the community makes it it's like everyone is winning.
Chadwick inspired those around him and embodied an idea that is irreplaceable. Black actors "all know what it's like to be told that there is not a place for you to be featured," said Boseman early last year at the Screen Actors Guild Awards with his "Black Panther" co-stars, "We knew we had something special that we wanted to give the world, that we could be full human beings in the roles that we were playing, that we could create a world that exemplified a world that we wanted to see."
Boseman was a champion to so many people and substantially impacted Black children everywhere who found a hero in not just the characters he played, but in him. He continued to give back to those kids any chance he got. He visited cancer patients at St. Jude Children's Research Hospital in Memphis while dealing with his own cancer treatment and came to the White House to work with kids when he was playing Jackie Robinson.
They had a role model to admire that looked like them and pushed them to believe in themselves and the world in spite of the hardships they could face. Chris Hemsworth described Boseman as one of the kindest, most genuine people he's met.
Boseman believed it was the honor of his career to bring King T'Challa to life in "Black Panther", but because he didn't want it to stand for race. In an interview with BlackTree TV in 2016, Boseman stated that he tried not to think about the blackness of T'challa. It was really cool for him to think of everyone of every ethnicity watching the hero and it not being a big deal, for there to be children growing not knowing any different than having everyone being able to accomplish anything. 
In 2016, Chadwick Boseman was diagnosed with stage III colon cancer, which eventually progressed to stage IV before 2020. Boseman kept his cancer diagnosis secret and continued to work on productions including "Marshall" (2017), "Da 5 Bloods" (2020), "Ma Rainey's Black Bottom" (expected to release in 2020) and more during multiple surgeries and chemotherapy. Boseman died at his home due to complications related to the cancer on August 28, 2020, with his wife and family by his side.
Chadwick Boseman was a man that stood for so much more than himself. He took his life and created a legacy. He won awards like The Black Reel Awards for excellence of African-Americans, the cinematic achievements of the African diaspora, Outstanding Breakthrough Performance, American Black Film Festival for Most Promising Performer and the NAACP Image Awards for Outstanding Actor in a Motion Picture. He played real life heroes and became one in the process. "He wore the crown with dignity," said Lupita Nyong'o.
About the Writer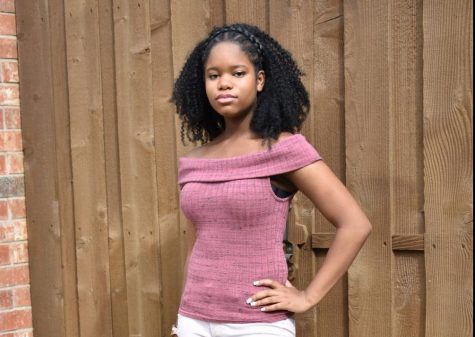 Kennedy Jackson, Editor-in-Chief
Senior Kennedy Jackson, or KJ, cares deeply about community and black pride. She uses her free time for writing, photography, and reading & watching...