Voting Guide 2020: How to Register and Vote
Voting Guide 2020: How to register and vote!
The presidential election is coming up, which is why The Eagle Angle is providing the most up-to-date information on how to vote and answers to common voting questions. Many Allen seniors turn 18 this year and may be unsure how to register and where to vote. According to graphs from the U.S. Census Bureau, only 46.1% of voters aged 18-29 voted in the 2016 presidential election, compared to 70.9% of voters aged 65+ that voted. Senior Ainsleigh Mitchell, who recently turned 18, is eager to vote in the presidential election and voiced her questions about the upcoming election. 
"I have yet to register to vote, I know I need to register before a certain date. But I still really don't know where I'm supposed to go to vote, I think it's the AISD [service] center, but I'm not positive," Mitchell said. 
That's where our handy guide comes in! Read on for more info on how to vote and access to interactive voting maps:
How to Register
In order to vote in every election, you have to be registered to vote. Voters can't just show up on Election Day without a voter ID. According to the Collin County government website,  In order to register to vote, voters need to be at least 18-years-old, a U.S citizen, and not be convicted of any felonies. You can pre-register to vote at 17 and 10 months old, but you have to be 18 on Election Day to vote.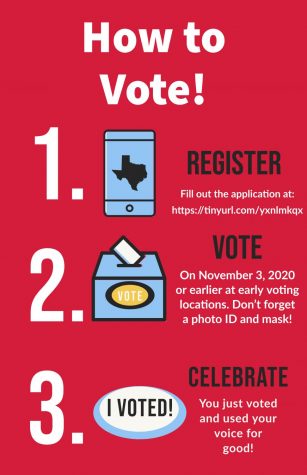 Voters can fill out a voter registration application here, and mail it to: 
Registrar of Voters 
2010 Redbud Blvd., Suite 102
McKinney, TX 75069 
Voters can also email the application to voterregistration@collincountytx.gov. The last day to change any voter information or register to vote for the upcoming election is Oct. 5. 
When & Where to Vote
Voters do not have to vote on Election Day. There are early voting options starting on Oct. 13  from 8 a.m. to 5 p.m. and ending on Oct. 30 at 7 p.m. Be sure to check Collin County's voting website for how long the polling locations will be open for each day. The actual Election Day is Nov. 3. 
There are only two early voting locations in Allen: The AISD Service Center in the lobby and at the concourse in The Allen Event Center. These two Allen locations will also be used for the Tuesday, Nov. 3 Election Day as well.  More early voting locations are on the county's website.
Voting Options
If voting in person is not a feasible option due to COVID-19, there is also an option to mail-in the ballot or drop it off at voting locations across Collin County. However, in the State of Texas, you must be eligible to request a mail-in voter application. The last day to request a mail-in ballot is Oct. 23. COVID-19 concerns are not part of the eligibility requirements for mail-in ballots.   All ballots postmarked before 7 p.m. of Election Day will be counted.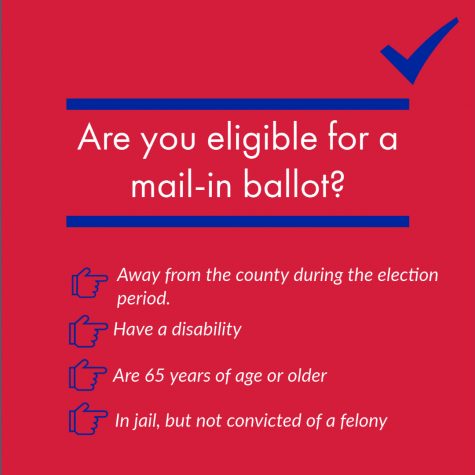 FAQ:
Do I need to renew my voter registration? 
No, there is no need to change voter registration unless the voter has moved to a different state or county. Check if you're registered to vote at https://tinyurl.com/y8vbebnu
Do I need to bring a photo ID? 
When going to the polls to vote, votes must bring a valid photo ID in order to vote. A valid photo ID can be a driver's license, passport, election identification certificate, and more. 
Collin County created an interactive map showing every polling location in the county and exactly how busy they are. Use the map below when voting, and remember to social distance and wear a mask. Every polling station will be disinfecting its equipment regularly and enforcing these policies, happy voting!
(If the map is not working click here. To view polling locations, press the two arrows pointing down, in the top left corner).

Loading ...