AP Exams Conducted Online Amidst School Closure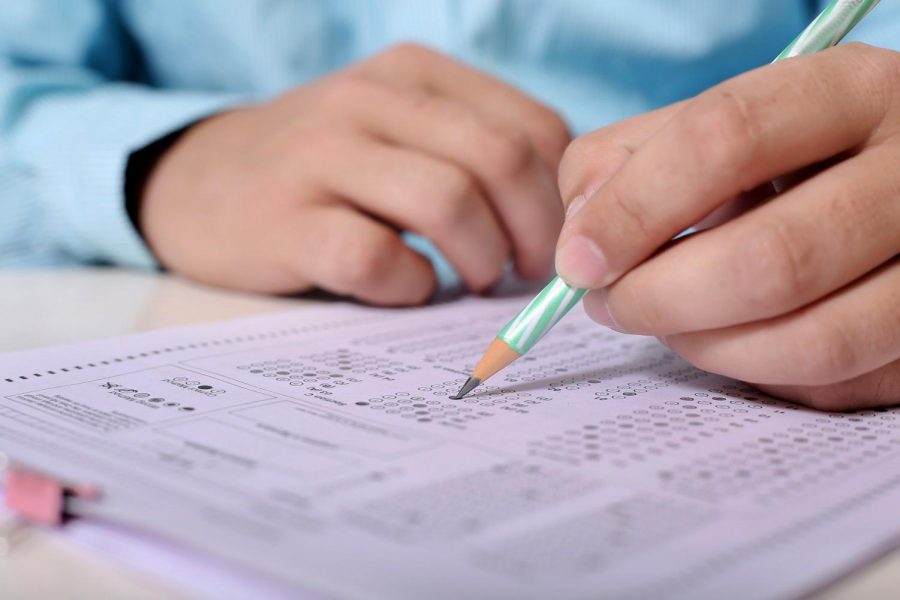 Advanced Placement exams started Monday, May 11 for all test takers around the world and will continue on through May 22. However, this year's AP exams will be taken online and at home in order to abide by social distancing guidelines with shortened versions offered instead of standard, full-length exams. 
According to the College Board, "the exam questions are viewed by students in a web browser, like Chrome. Students type or write their responses outside that browser." The AP Testing Guide states that, when it comes to submitting responses, students may "copy and paste a typed response, attach a typed response, or attach one or more photos of a handwritten response."
If students choose to handwrite their exams and attach photos of their response, they will only be able to upload up to five photos, according to the College Board. The AP Testing Guide also indicates that test takers must write their AP ID, initials, and page number at the top of every page if they choose to handwrite responses, and their AP ID and initials if they choose to type their response.
"If you have, let's say, three pages, lay them out, and your first picture is all three pages," AP calculus BC teacher Patricia Doyle said, in reference to photographing handwritten responses. "And then your second picture is each page, second, third, fourth."
A new testing system involves new testing strategies. Not only is the method of turning in exams different, but the method of taking exams is as well. The online nature of the 2020 AP exams means that exam prompts will have to be viewed on a device with the College Board recommending a laptop or desktop. However, the best strategy varies from exam to exam.
"Internet Explorer is not allowed, and students taking AP French or AP Spanish have to use either an iOS or Android tablet or smartphone," Advanced Academics Coordinator Shelly Holmes said. "A laptop won't work for those two exams."
Along with world language and culture exams such as French and Spanish, the AP music theory exam also has special requirements. According to the College Board, students must have an "audio recording app or audio recording software" alongside a printed answer sheet that is unique to AP music theory. Although the exam format will be different this year, there will be no difference in difficulty.
"The College Board has indicated that the level of rigor will not be decreased just because the exams are shorter," Holmes said. 
As for scoring, the College Board has stated that exams will still be scored on the same 5-point scale. According to the College Board, scoring will remain consistent with previous years, and 2020 AP exam scores will be "very similar to prior years' scores."
"It's a 15 minute FRQ, but what I feel from looking at their practices, is I feel they're giving us more work in it than normal," Doyle said about calculus BC sample free response questions. "And the longer one is truly longer, instead of four parts in a normal FRQ, this thing's got seven parts, but only 10 more minutes."
This year's AP exams may have questions that are formatted differently than previous years depending on the subject as demonstrated by the released sample exam questions available on the College Board website. Test security will also operate differently as the College Board has to account for remote testing and access to devices connected to the internet.
"The College Board will be monitoring each exam for unallowable activity," Holmes said. "Students who access a shared drive during their AP exam will have their scores canceled."
The College Board is introducing a new strategy this year of sharing students' exams with their teachers in order to facilitate plagiarism detection as well as having exams "scanned by plagiarism detection software" according to the AP Testing Guide. However, it is unlikely that the College Board will be directly monitoring test takers.
"The College Board has not indicated, in any of its communication with students, parents, teachers, or coordinators that cameras will be in use," Holmes said.
Although students cannot access a shared Google Drive document during an AP exam, it is still possible to access notes or documents stored on Google Drive. In fact, the College Board states that it is allowable to type responses in Google Docs.
"If it's their Google Drive, they can make it private for the time the exam is on," Doyle said concerning students' Google Drives during exams. "As long as they're the only person accessing that drive."
There is a lot of information about the 2020 AP exams that is available through the College Board that can be accessed in preparation for exams. The College Board has set up an AP exam demo that allows students to practice submitting responses and test that their device is able to upload exam responses. The demo also simulates the timer that will be active during an exam.
"The timer on the exam platform will help students keep track of the time they have remaining to complete required tasks," Holmes said.
The College Board states that responses should be submitted once five minutes are remaining on the timer. The College Board also provides an exam day checklist for students, and an official 2020 AP exam calendar is also available. Allen Independent School District also has its own localized exam calendar.
"They need to go through the College Board's exam day checklist," Holmes said in reference to students. "In addition to whatever content specific information shared by their AP teacher, I believe the College Board's exam day checklist is the best prep students can do ahead of the exam." 
About the Writer
Alice Shao, Staff writer
Senior Alice Shao likes listening to metal and classical music whenever she is not practicing violin, playing the guitar, or songwriting for her band Malady...