Behind The Lens: Charis Cacal
Junior Charis Cacal is a photographer in commercial photography. She recently won first place in Digital Editing at the Texas ATPI conference and also received two honorable mentions for her environmental self-portrait and for her fine art portfolio. 
Q: How did you get into photography?
A: I kinda grew up in a photography environment. My dad was really into it, and he took pictures of cars. I remember growing up, I occasionally stole his camera and took a few photos for myself. I've been interested in photography for five years, but I've actively been growing in it for four. 
Q: What inspires your photography? 
A: I really like exploring the limits of how aesthetic everything is in the world. I think something really cool about photography is that it can freeze time. Wherever you look, whether you have a camera or not, just thinking how things would look at a certain angle, it's just kinda built-in. 
Q: How do you find the "perfect shot?" 
A: I think the big difference between beginner and more advanced photographers is lighting. Obviously cause it's not that hard to readjust your position or where to get the good lightning. I think lighting makes a really big difference. 
Q: What about photography challenges you?
A: At first, Photoshop was my biggest mountain. There are five ways to do one thing. But honestly, after you get Photoshop down, it's so freeing. At this point, my biggest obstacle is having a vision and getting it out exactly the way you want. 
Q: Did it take you a long time to learn photoshop?
A: Weirdly enough, it didn't take me that long. I think learning what each tool does is not difficult. It is mainly how you use it. Or like when you're faced with a certain problem, "How do I take this pole out of my photo?" Which of the 10,000 tools do you use? 
Q: How do you balance photography and school?
A: At first, photography started as a hobby, when I had free time, I'd just take pictures. At this point it's so integrated into my work I kinda just naturally take photos at this point. It's not really a struggle to balance.
Q: Tell me about your recent photography trip?
A: We returned a few days ago from the  ATPI Winter Conference. It's basically where a bunch of high school photographers, all over Texas, meet in one place. It's so cool just to be surrounded by a bunch of people that have the same interests as you. Basically, for a few days, you get to shoot whatever you want. There are also contests on the site that you can take. I did the digital editing contest, where you photoshop a few photos in only an hour. I got 1st place. Aside from the contest, there are classes. You get to see and meet a bunch of super experienced photographers and they get to teach you a lot of stuff. 
Q: What's your favorite composition?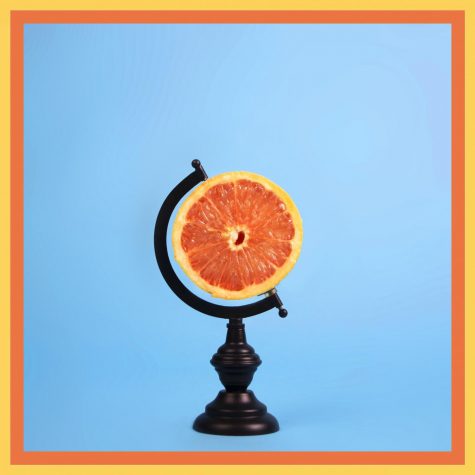 A: The Globe with the Grapefruit. I took that last year. It was one of my first times shooting in the professional studio, so I was kinda nervous. It was one of the least planned photos I've had. I remember waking up, "Oh my gosh I have to take pictures today," I grabbed a globe, and I was like, "Ok what else is round?" And I grabbed a grapefruit. And I was like "Ok what do I do with this?" At that point, you kind of subconsciously line-up shapes together. So basically I took a picture of the globe and a separate picture of the grapefruit and combined them in photoshop.
Q: Are you pursuing a career in photography? 
A: Yeah, hopefully. One of my goals is to open a photography print shop. 
Q: Any tips for new photographers? 
A: Look around more, In anything you see, there's something worth taking a picture of. Especially with macro photography. My friends that shoot macro, sometimes they'll show me a behind-the-scenes photo, and it's a really ugly location, but when they zoom in, it's such a beautiful moment. 
There aren't that many Asian-American Photographers, so no matter what pressure you have around you, at the end of the day, the most drive you have for art is going to come from yourself. 
Q: What is your most recent photo series?

A: The prompt for that photo series was Fashion Photography. It's something that I'm definitely interested in. I have a lot of inspiration. The "Bruh" wasn't a really thought out choice of words. I was just editing and my friends were like "Bruh that's really good." 
Check out Charis' most recent photo series on her Instagram: @charis.cacal