20 under 20 Art Show Feature
On Jan. 17, eight artists from Allen High School entered the 20 under 20 Art Show, a show with 20 participants under the age of 20. Their pieces were displayed in the Allen Arts Alliances art gallery. The art show granted an opportunity for these artists to present their pieces to friends, family and visitors.
"I entered three pieces," junior Nicholas Bastia said. "The first one is called "Jeffery," a 4 x 4 ft. painting of a llama that I thought of. I did a digital piece originally and then translated it to a big piece."
In addition to "Jeffrey," Bastia also submitted a charcoal self portrait titled "Effigy" and a painting titled "Rough Riders." Another artist that entered the competition was junior Ellis Chong, entering three oil paintings. Unlike Bastia who enjoys art as a hobby, Chong said she plans on pursuing art as a career. 
"I definitely want to go to an art college," Chong said. "I'm stuck between either fine art or animation. I've been thinking of going to Disney or Pixar, or doing concept art."
Whether it's for a career, or just as a hobby, any form of art takes practice. Bastia describes practice as "a lot of hard work" and improves by sitting down and "really focusing" on it when he has the time. In Chong's case, she categorizes practice in two ways.
"There's technical and idea," Chong said. "Idea takes a lot of practice. You just have to keep practicing to make it more mature, and technical is something anyone can really do since it's more systematic, but anyone can do it."
Both Chong and Bastia are dedicated artists, but like anyone successful, there was help and support. In this case, the support are the wonderful art teachers at Allen.
"The teachers are very knowledgeable in the field and help you so much with your art," Bastia said. "Mrs. Richardson and Mr. Miranda have been really helpful in helping me improve in my art journey."
Jeffrey Miranda has taught at Allen for about 10 years. He is a passionate artist himself, which is evident when you enter his classroom and see his smock caked in charcoal or paint. Miranda encourages art students to enter in art shows or competitions. Not to win, but to feel a sense of "validation."
"When you see your artwork or your doodles in an art show, it really can give you a boost of confidence," said Miranda. "It doesn't matter if the student is going to be an artist, but knowing that [the student] can create something with their hands makes a good, healthy form of self expression."
About the Writer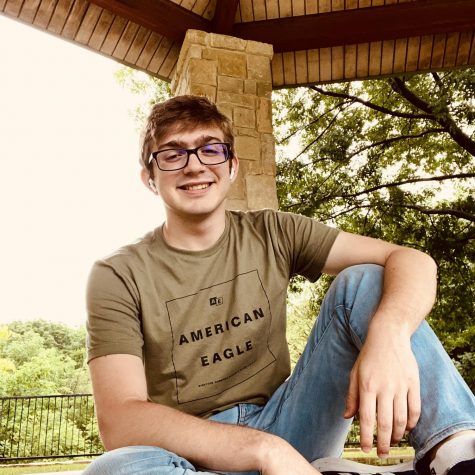 Alessio Haro, Editor-in-Chief
Co editor-in-Chief Alessio Haro enjoys creating comics and taking long walks in his free time. He is unsure what he wants to do in college, but he plans...