AHS Announces National Merit Semifinalists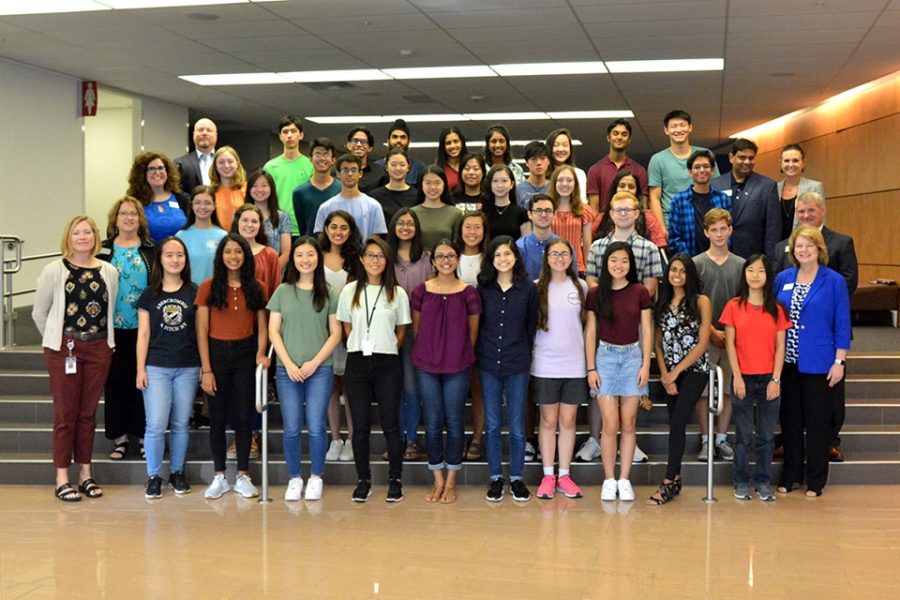 Allen High School recently recognized their largest group of National Merit Semifinalists ever, with 38 students. These students are among 16,000 semifinalists nationally out of over 1.5 million entrants. 
Students qualify for National Merit consideration by being within the top 50,000 students, achieving the Commended rank. From there,16,000 are selected as semifinalists. 1,000 students will be cut from the semifinalists to determine the finalists. Roughly the top half of finalists will receive scholarships from the National Merit group. 
"The most important part [is] having good test taking skills," said semifinalist Ian Poynter. Poynter and other qualifiers stressed the importance of understanding the qualifying test, the PSAT. 
Semifinalist Angela Liu expressed a similar sentiment, saying that "half the test is just knowing how the SAT/PSAT works."
Allen's semifinalists will submit complex applications detailing their academic and extracurricular accomplishments. These applications will determine which students become finalists. The students will be informed of their status as finalists in February. 
Allen's semifinalists are: 
Andrea Afonso

Jenny Ahn 

Riya Anand

Hunter Chemelli 

Sarah Chen 

Allen Dong 

Wenting Du

David Edgemon 

Sean Gao

Amila Haque 

Rachel Hong

Daniel Honrales 

Harry Kang

Caroline Kemp 

Angela Liu

Siddhi Malavankar 

Priya Mandava 

Abhi Patel

Nidhi Pawate 

Ian Poynter

Anita Prabhu 

Avani Putcha 

Ian Raham

Vatsa Ramanathan 

Wasif Reaz 

Alice Shao 

Leia Sing

Kaylee Smith

Pranay Srivastava 

Sophia Stanzo 

Lauren Tompkins 

Karis Tsao

Teya Weckerly 

Peyton Wright 

Shiyu Xu

Arsen Yang 

Yi Jun Yang

Angela Yeung

Ruth Zachariah
Additionally, Allen has 73 Commended-level students. Commended students include:
Aadya Ahuja 

Ridaa Alam

Zoe Anderson

Gideon Atkinson

Katherine Atkinson 

Ritika Bhalla

Vardaan Bhat

Angelina Biswas 

Kevin Blanchard 

Dorothy Bui 

Tiffanie Cao 

Ray Chen

Vincent Chen 

Yue Chen

Sing-Rong Chio

Sanhita Chundury

Courtney Compton 

Chris Deng

Srikar Devulapalli 

Jas Dinh

Maya Doshi 

Ally Duong 

Anni Fan

Vineel Gajjala 

Geryk Garcia

Pranathi Golkonda

Nikhil Goyle

James Griffith

Addison Hamby 

Shabab Haque 

Noah Jacobs 

Julia Joseph

Alexander Kaseta 

Rithvik Kata 

Isha Kere 

Ruby Kiel

Sharada Krishnagiri 

Anya Krishnaswamy 

Amelia Landry 

Justin Li

Johnson Lin 

Garrett Lo

Zachary Lozuk 

Michelle Lu

Kevin Luong 

Kira Mertely

Alexandra Miller 

Manav Modi

Nahiyan Muzaffar 

Kacey Na 

Gowri Nair

Huy Nguyen 

Eunjin Park

Timothy Pham 

Faiza Rahman 

Arjun Rao 

Nina Rao

Karthik Reddy 

Michael Rice

Roderick Seto

Kaitlyn Springate 

Pranav Sudrik

Gordon Summitt 

Zayam Tariq

Ashley Taroni 

Farhan Towhid 

Justin Tran

Gaytri Vasal

Grace Walzel 

Braden West 

Cade West 

Ethan Zhao 

Jordan Zon 
About the Writer
Harper Mayfield, Staff writer
Senior Harper Mayfield enjoys bad jokes and competing for the AHS swim team. He plans to leave Allen in favor of an as yet undetermined university.