A Guide to Going Green
Our ocean is hit with eight million metric tons of plastic waste every single year, a number that is only increasing as time goes on. A contributing factor to the plastic waste existing in the first place is from the massive amount of two and a half million metric tons of waste being produced around the world. Although trash ending up in the ocean is a major problem within itself, the main problem is people not thinking consciously about how their actions may affect the environment. The solution, to decrease the amount of waste created and save our planet, is people choosing to change. 
A couple of weeks ago, my sister was home from college and was doing an assignment on how many individuals were diligently involved in saving the planet with the products they purchase. The results stated that people typically ranked themselves between a 2-6 on a scale from 1-10 on how environmentally conscious they believe they are. Their ranking was backed up with honesty that when shopping, they don't pay much attention if a product is eco-friendly. 
This essentially means people usually aren't actively looking for eco-friendly products on the shelves. After the study was conducted, several people, including myself, realized that we may not care about the environment as much as we claim. Luckily, the power of social media has allowed users to spread the word that people need to change their waste habits. Although there are hundreds, a few examples of climate and environmental activists and guides are Instagram users @_WastlandRebel_, @TheZeroWasteGuide and @GretaThunberg. If people do not change their habits, our planet will undergo awful irreversible consequences in the coming years, but there is only so much preaching without action that can go on. We can't watch our beautiful planet slowly die off because of the decision of not taking responsibility for our actions.
While bringing awareness of the problem is the first step to productivity, it is definitely not the last step. With a problem as big as our planet deteriorating right before our eyes, thinking of a solution to fix it might seem overwhelming. Surprisingly, a little bit of change can go a long way, meaning that by changing a couple of a person's habits, only positives can come as a result. However on the topic of feeling overwhelmed to fix a giant problem: trying to find a starting point to change habits may also feel confusing which is why starting small is key. 
According to Global Stewards, start with simplifying your life as much as possible. A small yet helpful thing to do is to examine yourself for the excess of where your waste comes from then take action. For example, if you are an individual who tends to use a lot of water bottles, try to cut down on your plastic use. Perhaps try to find a stainless steel reusable water bottle that works for you. According to Earth Day Network, each person uses 13 water bottles per month. With this, by just simply changing to use a reusable water bottle versus non reusable, each person will already be benefiting the environment by 156 bottles or more per year. 
EarthEasy mentions that there are ways to eliminate waste by substituting non eco-friendly products for healthier options for the environment. Easy things people can do to help is to use reusable water bottles, straws and utensils; we can also use a lunchbox or reusable grocery bags as opposed to plastic bags and purchase from eco-friendly clothing brands. An opinionated reason that people may not use eco-friendly products is simply that they aren't aware of eco-friendly companies and they tend to be more expensive. Fortunately, there are countless companies out there that work towards improving our planet, to name a few, there is 40Ocean, Patagonia, Hydro Flask and HumanGear. 
What exactly makes these companies eco-friendly revolves around the materials used to make the products and the company's purpose. For instance, 40Ocean's purpose is to end the ocean plastic crisis by cleaning one pound of trash from the ocean for every bracelet purchased. Their bracelets are made from post-consumer recycled materials and most of the bracelets are related to a partnership to save endangered animals. Outdoor clothing and apparel company, Patagonia, uses sustainable materials such as organic cotton, recycled nylon, recycled wool and other eco-friendly fibers to make their clothes. Insulated reusable water bottle company, Hydro Flask has a wide selection of stainless steel water bottles that are 100% recyclable and BPA (bisphenol A) free. In addition, Hydro Flask has a charitable giving program called Parks For All, supporting the development, maintenance and accessibility of public green spaces. Lastly, utensil company, HumanGear has dozens of reusable products such as travel eating utensils, bowls and more awesome selections. HumanGear's line of eco-friendly products are made out of FDA food safe silicone, durable nylon, are BPA-free, PC-free and phthalate-free. 
I have purchased from three out of four of the eco-friendly companies I listed above and highly recommend them. I own several pairs of Patagonia shorts ($55) and not only are they comfortable, but they're also made out of 100 percent recycled nylon and bluesign approved, a system that makes clothing more sustainable. I also have purchased a Hydro Flask ($39), although seen as a "basic" thing to most people in 2019, the reusable water bottle has held up its quality over the years, making it worth the money. A few months ago, I purchased a 40Ocean bracelet ($20) and wear it regularly, getting to teach others about the company's purpose if asked about it. Lastly, while I have not purchased anything from HumanGear, my sister has. From the times I've seen the travel utensil GoBites ($15), it seemed to be a very handy and durable product. Eco-friendly products may be on the more expensive side, but from personal experience, the extra little bit of money is worth what it's doing for the planet. 
Hearing about phenomenal companies such as these that contribute to a better planet may make people ask why they haven't used them before. Unfortunately, a common downside to why people might not use eco-friendly products to replace their waste is the hefty cost. For instance, if two identical products are next to each other on a shelf: one item being unsustainable and the other being sustainable, typically the sustainable item will be more expensive. Although eco-friendly products are greater in price, the extra penny spent will be worth it in the long run. 
According to Sustainable Brands, another obstacle people might face that turns them away from becoming eco-friendly is not knowing what keywords to look for when shopping. While there are a huge number of eco-friendly words to search for on packaging, a few are: sustainable, recycled, compostable and biodegradable. People may also have difficulty separating eco-friendly materials from not eco-friendly materials. A few eco-friendly materials are organic cotton, recycled paper, aluminum, bamboo and stainless steel. In addition, there are also target materials to avoid when purchasing products. Target words include: acrylic fabric, non-organic cotton and polyester fabric. The reason these materials aren't eco-friendly is because they are not easily recyclable, biodegradable and harm the environment. When shopping, simply checking item descriptions and material lists can make all the difference in making healthy environment choices or not. 
Our Earth is our home and we need to go back to the saying "leave it nicer than how you found it." We urgently need to start caring about the environment we live in and leave it for future generations nicer than how the generation before us left it. The main consequence of ignoring our planet's call for change is the increase of plastic waste in our ocean, resulting in marine animals dying from plastic intake. Just by substituting not sustainable products with eco-friendly ones and checking product materials, we will work towards creating a healthier home. Awareness of the problem is the first step to productivity, but you decide step two.
Infographic designed by Mackenzie Jones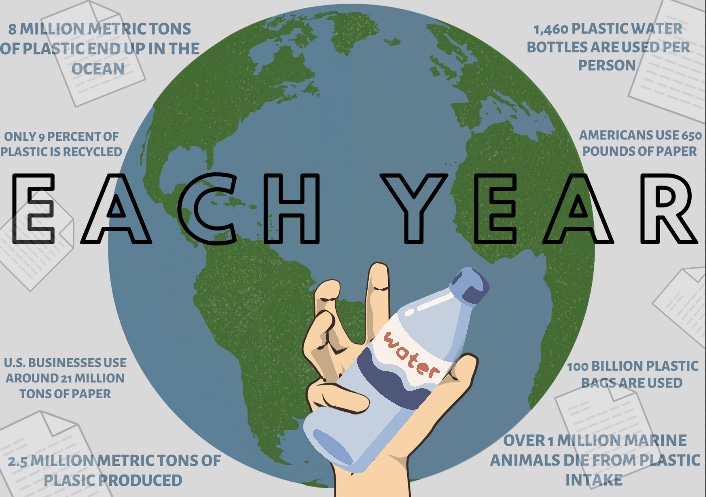 Leave a Comment
About the Contributor
Mackenzie Jones, Staff writer
Senior Mackenzie Jones likes watching mystery documentaries (this includes trying to solve the JonBenét Ramsey case for the twentieth time) and listening...