Enabling the next generation
Girl Up lends a hand to the underprivileged
Girl Up, a new club that raises funds for underprivileged girls both in the community and all around the world, spreads awareness of issues facing disadvantaged girls. Girl Up's main objective is to help girls all around the world by working locally with different organizations that have girls who need support in health care, safety and education. The club is also part of the United Nations organization of Girl Up to help underprivileged  girls.
According to club sponsor Timothy Mountain, some examples of the fundraisers that Girl Up has done so far include organizing bake sales and selling friendship bracelets. Furthermore, to put that money to use, the club symbolically adopts a young girl and uses that money to provide her with an education for the year.
"We really care about girls getting the same opportunities in countries as we do," senior co-president and co-founder Nikki Kadmar said.
Kamdar and sophomore co-founder Pareeni Shah, explained that they were inspired to create this club because of their desire to help as well as their own personal experiences with the issue.
 "My mom, she lived in India, and I used to live in India for a while, and I witnessed first-hand what it is like to not have basic necessities," Kamdar said. "Girl Up gives you the medium through which you can help. All you have to do is play a small part, raise some money. It helps so many people in ways you can't even imagine."
According to the United Nations Population Fund (UNFPA), 1.59 billion young people live in a place where they are more likely to be in poverty and not be able to access health care and education. Furthermore, half of these people face frightening vulnerabilities because they are girls. Half of all sexual assaults are committed against girls aged 15 and younger. Studies from the UNFPA have shown that about 20 percent of women experienced sexual violence as girls.
"$75 [is an] entire year of education for three girls in certain countries," Kadmar said. "It can be as easy as donating as much as that little bit of money. The opportunity to have a good education also opens door the level of achievements they can have."
Shah said another goal these students have is to teach these young girls life lessons or just spend time with them, so they get more exposure. They want to teach them about school and how the world works so that if they get a better chance, they'll be more ready. Young women are still underrepresented in some school programs, such as STEM, and according to the United Nations Educational, Scientific and Cultural Organization, there are four million fewer boys than girls out of school. 
"It's not even just within the country, even here within Allen High School," Mountain said. Males are usually treated better in regards to education, occupation and health. 
According to Mountain, Girl Up benefits the people in it as much as the people it strives to help. It teaches compassion and helps motivate these girls to do their best in their own community and empower themselves.
 "When you look at the facts and statistics, it's really shocking how many people don't get basic necessities," Kadmar said. "I think what inspired me to do this was because I could, and it was very easy to start a club and raise money."
About the Writer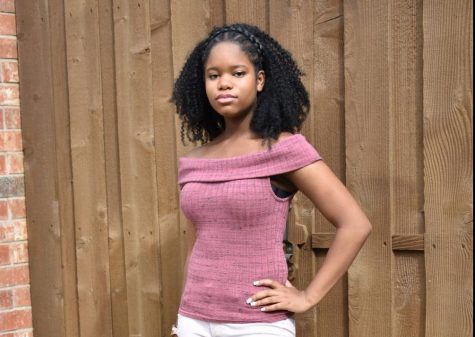 Kennedy Jackson, Editor-in-Chief
Senior Kennedy Jackson, or KJ, cares deeply about community and black pride. She uses her free time for writing, photography, and reading & watching...