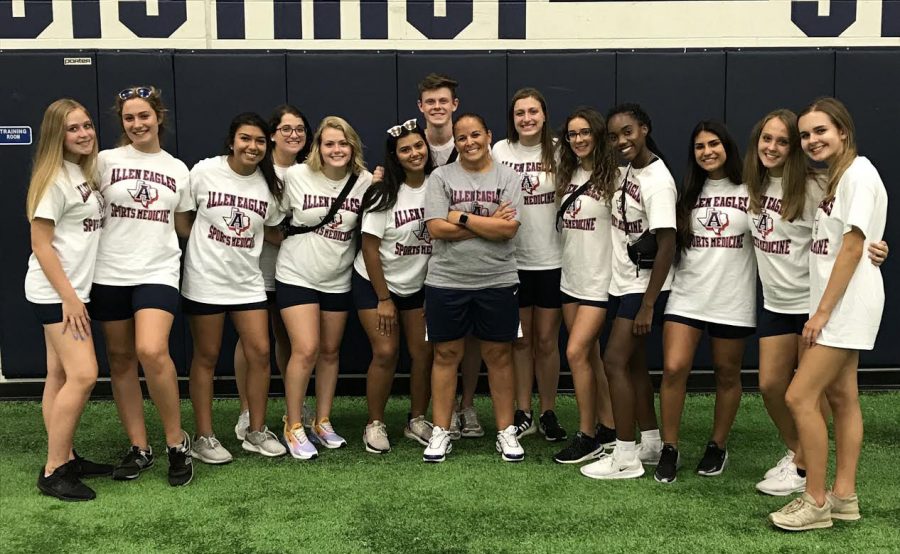 While the athletes at Allen are some of the most successful and strongest high schoolers around, injuries in sports are inevitable.
What most people don't see after an athlete is injured and forced to sit out during games for weeks or possibly months on end, is the recovery process and who is in charge of it. Coach Mary Lynn Miller has been a part of Allen's sports medicine program for 22 years and counting, where she has been the backbone of maintaining the health of our athletes. Deciding what direction somebody wants their life to go after high school can sometimes be a stressful process, but that wasn't Miller's experience when getting hurt unexpectedly opened new doors for her. Unlike most people, Miller had already decided on what she wanted to do with her future while she was still building it as a teenager.
"I was in high school and had gotten hurt," Miller said. "I saw what the athletic trainers did so that's when I basically decided that's what I wanted to do."
As planned, she later became a certified athletic trainer who now holds the position of teaching Allen's student athletic trainers first aid, teamwork and many more skills that pertain to both health and the real world.
"We started off with about 12 kids and now we have 63 kids so we've fluctuated between 60 and 70 kids the last few years," she stated.
For the program to begin with a dozen students, then in a few decades time grow into five times that, is amazing to see as the years go on. More students are hearing about the athletic training program and gaining the urge to check it out.
"People want to be a part of it," Miller said. "People want to learn what we do, get involved, and this is a great way to do it."
Although curiosity of the health field and wanting to get involved may be some of the reasons that students choose to get involved with the sports medicine program, Miller's reason is different.
She sees herself a part of it to be a helping hand and as an aid to others.
"The opportunity to help athletes get back on the playing field or court safely when they get injured is what training means to me," she said.
Apart from being the person on call if there is an injury or concern, Miller still makes time to create relationships with the athletes and trainers she works alongside with every day. With being a trainer as well as a fellow teammate to her student trainers, Miller has experienced watching her group of athletic trainers learn about the health field and grow as she once did as a beginner.
She said ome of the great things she has encountered as an athletic trainer are all the different athletes she's met along the way, have treated, gotten to know and all the student athletic trainers that she's ever gotten to teach and guide. Also according to Miller, ach year brings new additions to the athletic training family which allows for new challenges to face and new students to teach the basics of athletic training like first aid, how to be leaders, good teammates, and how to be helpful.
"The positives outweigh the negatives by a lot," Miller said.
While the hours can be exhausting from 7 a.m. to 11 p.m. in some cases such as Friday night varsity football games, the student trainers remain hard at work to accomplish the day's tasks. A typical day for the student trainers include therapy treatment to the injured athletes early in the morning, then football practice in the afternoon in the fall and spring, then switching to train their assigned second sports in the winter.
"They come in ready to work even if they've had a bad day, they're out [on the field] in the hot sun and getting things set up," Miller said.
Most of the current athletic trainers have been participating in the program since their freshman year. Senior Grace Meil has been apart of the athletic training program since the beginning of her freshman year in 2016 but found her inspiration to go into the health field much before that.
"In seventh grade, I had a leg injury that caused me to lose my soccer career and go into physical therapy," Meil explained. "There I found [my] love of health and felt called to be a physical therapist."
After joining athletic training, Meil said she was taught the reality of leadership and the longer she continued in the program, the more she saw her leadership role becoming a responsibility in being a good teammate. Fortunately for Meil, her hard work of being an outstanding leader paid off as she was picked to be one of the 2019-2020 head trainers, meaning she had proved herself to stand out among the other trainers and was now a lead trainer.
Throughout the years, Meil said her favorite part of being an athletic trainer is getting the opportunity to be involved in something so great.
"We are not recognized much with what we do," Meil stated. "We provide such a big impact that you couldn't imagine a day without."
Despite the long working hours, extremely hot weather, and fast-paced skill learning, Miller and the student athletic trainers said they are constantly putting forward their best effort to be Allen's best first aid team.
"[Allen has] the best athletic trainers in the state and we have a great group of students who work hard every day," Miller stated.