"When We All Fall Asleep, Where Do We Go?" Review
My strange addiction is Billie Eilish's debut album
Hang on for a minute...we're trying to find some more stories you might like.
Fast-rising 17-year-old star Billie Eilish's debut album, "WHEN WE ALL FALL ASLEEP, WHERE DO WE GO?" is an erratic twist on pop with eerie instrumentals that go outside of my listening comfort zone. Eilish has become the "strange addiction" of thousands of teens worldwide thanks to her trend-setting habits and willingness to step outside of the norm. Her original style, while sometimes overwhelming, makes a great addition to any playlist.
The album mimics Eilish's previous songs, staying edgy and soft in songs such as "my strange addiction." However, her new collection seems more mature as complex melodies are introduced, as heard in "bury a friend," and "ilimilo." This album also experimented with a mixture of ukulele and artificial sounds in "wish you were gay" and "8," creating an engaging product.
There are a wide variety of positives to "WHEN WE ALL FALL ASLEEP, WHERE DO WE GO?" Her unique choruses and unpredictable song structures give a sense of mysteriousness that is irresistible. Eilish's continuous experimentation allows her to create intriguing instrumentals that could almost be listened to without lyrics, with a wide variety of stylistic effects and beats. Paired with this, Eilish's tone, control and pitch have gotten even stronger since her last single, making most of her tracks even more enjoyable.
While I liked the majority of her songs, there are some elements in Eilish's new tracks that may hurt the album's success. Her vocals, especially in the songs that hadn't been pre-released, are too breathy at times and awkward. While this seems to be the theme she is going for, Eilish takes it too far in songs such as "xanny" where her breath begins to cover up her vocals. Several of her songs also have an overwhelming amount of saturation on her voice that on a small scale can be cool, but Eilish should have toned it down.
Overall "WHEN WE ALL FALL ASLEEP, WHERE DO WE GO?" earns a B plus; although several songs could be omitted, Eilish creates a debut album that displays how she earned her rise to fame.
About the Writer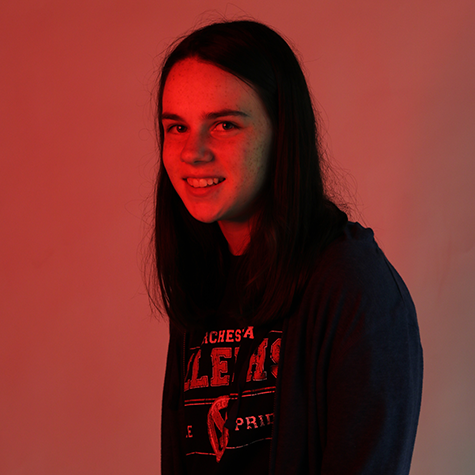 Anna Bridgeforth, Staff writer
Sophomore Anna Bridgeforth loves photography and ASL. She enjoys doodling in her spare time and plans on becoming an ASL interpreter when she grows up.