"Free Spirit" Review: Khalid spreads his wings and soars
R&B artist Khalid's "Free Spirit," the second album of his career, is a 17-song story of the heartbreak he feels from going through the motions of a bad relationship. He also explores moving on from his unfortunate journey and accepting it; he lets his emotions take over and delivers an earnest and powerful album.
Khalid starts off with an introduction to the heartache that can emerge from a relationship. "Intro" sets the unconfined tone while directing the polished instrumentals. Leading with a soft beat and melody that allows your mind to understand the lyrics explaining his initial and genuine feelings on how to first go about their personal issues.
"Better," the fourth track, seems a bit out of place. It disrupts the sequence of the emotions in a natural breakup and makes it harder to understand what direction he's taking with his theme. Khalid sings about how his relationship is not working out, but then he switches gears to talk about how great it is and how "Nothing feels better than this." The lyrics in this song don't fit with the downhearted emotions he's shown throughout the album, serving as a fun song to dance to. Even though "Better" does a great job with that, it should be placed before "Bad Luck" and "My Bad" to put more meaning and discernment into the album.
"My Bad" reflects the general idea of his album, expressing the difficulty of nurturing a problematic relationship. It's an uncommonly used approach in a modern song about failed love where the singer takes part of the blame, which can be appreciated by a multitude of people. This song also reflects on the anxiety he feels — not just with a person he loved, but with himself and the pressures of being a performer.
As he progresses, Khalid reaches the matured resolution of the story. In "Free Spirit" and "Self," he takes control of the troubles that are plaguing him, finally reaching the point where he has gained wisdom through these trials. He realizes his motivation to make music has always been the same because that's what's really important to him. It's a reminder to the teenage demographic that if you take a breath, you can figure out a way to get past your problems.
Khalid finds a more mature mentality in "Free Spirit," one where he knows that he has to and can move on for himself. His raw emotion and self-reflection are delivered in rich vocals that really compliment the soft beat, driving home the roots of his message and career. Those exploits bring back the mellow and upbeat style Khalid is known for. "Free Spirit" symbolizes his letting go of his troubles and rising up to meet his better self, and overall I give this album a solid A.
About the Writer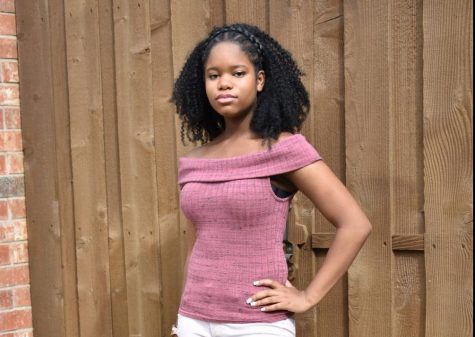 Kennedy Jackson, Editor-in-Chief
Senior Kennedy Jackson, or KJ, cares deeply about community and black pride. She uses her free time for writing, photography, and reading & watching...