Wrestling Talent
The #1 ranked Allen Eagles Varsity Wrestling team is on a hot streak, off to fresh first place finishes at the 6-6a district championships in Coppell, and the 2-6a district championships in Allen.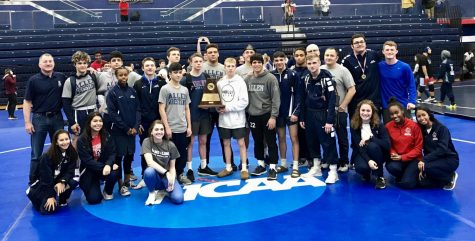 "At the end of the season, I don't hope, I know we will see the team on top of that team leaderboard," sophomore Rance Waigand said. "We are a really tough team all around so I don't think we will have a problem if the team shows up to wrestle. If the team doesn't show up to wrestle, then it's up for grabs, but if we show up ready to dominate, nobody will stop us."
Confidence and morale are high within the team, with every player having their own successes. Team members said they are confident in their ability to not only succeed but dominate. This is especially shown in their overall team score of 317.5, a whole 74 point advantage over second place at the 6-6a district championship and a 311.5 point team finish at the 2-6a district championship, more than doubling the second place finish.
"It's expected of us to be state champs," senior Trent Dooley said. "But I want us as a team to truly dominate this year at the state tournament and leave without a shadow of a doubt that this year's Allen wrestling team is the best one we've had ever."
Individual performance and improvement seem to be important topics, and it clearly shows with their first place finishes. With seven of the 13 players being underclassmen, these young players have a drive to improve and be even better than they are right now. The future looks especially bright for the Allen Eagles wrestling program, as they seem completely unstoppable with a great sense of accomplishment and camaraderie together.
"My individual performance has been a bit of a change this year. Last year I was beating everyone and not having very much competition, but this year I got to experience the big national level kids," Waigand said. "I think that woke me up and motivated me to become a better wrestler, so I would say this season I have gotten better and have done alright in the new environment. "
Their momentum that will carry going into future events will prove to be a game changer in defeating their rivals. Their major opponents within the Boys 6A team rankings are Arlington Martin, Katy, and El Paso Franklin, who have all had respectable rankings within the last few tournaments, and will all be hungry to try and take Allen's first place spot.
"I am confident in my performance. I've improved a lot in a short amount of time and I'm still improving a lot," junior Elise Brownton said. "I know we will win our 10th state title, I have a great team and coaches and we love to push each other."
The Allen Eagles recently just took gold at the UIL State Conference 6A boys championship. This is their 10th consecutive title at the event. Their confidence as a team and individually are proven in their ability to win tournament after tournament and title after title.
"This year's team is probably one of our most dominating teams," junior Gabe Martinez said. "We don't care who we wrestle as long as we are the ones who are winning in the end. We will win our 10th UIL state tournament and bring the glory back here to Allen."
The Allen Eagles Varsity Wrestling Team is a threat to be feared within the high school wrestling scene. They are dominating on all fronts of their competitions and are Texas' #1 ranked team.
About the Writer
William Geiger, Sports editor
Senior William Geiger likes to use Twitter, watching NBA games, listening to music and dropping at Dusty Depot! He plans to go to Texas A&M and major in...