Dribbling to the postseason
Boys basketball team prepares for yet another hopeful great postseason run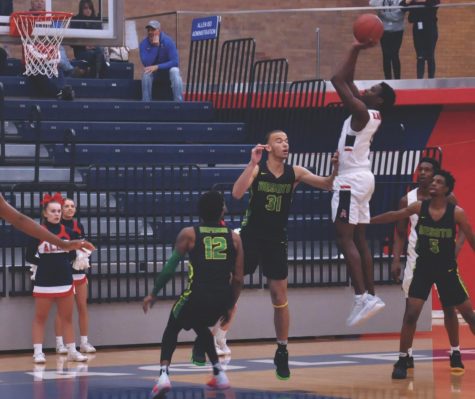 The Allen Eagle men's basketball team has five more games left in the regular season and then will be getting ready to prepare for the playoffs. The team, led by first year head coach Joe McCullough — the brother of former basketball head coach Jeff McCullough.
The team is also led by senior Isaiah Stevens, junior Thailand Elder, and sophomore Manny Obaseki. They have led the team to an impressive record 28-3 so far.
"Expect the team to play hard and compete every night and get ready to make a strong playoff push," Stevens said.
The Eagles, ranked as the second best team in the state according to MaxPreps as well as 19th nationally, are coming off their most recent loss to Dallas Jesuit by a score of 58-77. Two of the three losses the Eagles faced were against Dallas Jesuit, who have recently been placed in Region 2-6A due to the UIL realignment this year.
"They're an extremely good team that knows how to play the right way," Obaseki said." Sometimes we tend to lose focus a lot but we're working on it [and] that's really been the reason why we've started off slow."
There were a handful of seniors who had graduated and left shoes to fill by upcoming underclassmen turning to upperclassmen, and the upperclassmen stepping up. Although this year's team has done very well(record wise), having younger players can really change how the team plays since the environment has changed.
"I really feel the whole team has stepped up to the plate this year knowing that what we did last year doesn't entitle us anything this so knowing that everyone bought into getting better," Stevens said. "And preparing to handle the target that was going to be on our backs."
With the Eagles last game falling on February 12, the team is hoping to finish these last few games with a win. Last season, Allen finished the regular season 26-6, so it's safe to say that the team this year has improved according to Elder
"Our team prepares, I feel like the best out of all the 6A schools," Elder said. "Our coaching staff gives us detailed scouting reports and film sessions that help us lock in on keys to win games [and] we also spend time in practice shooting and working on our own craft."
There has been high expectations of the team this year, as they went on and won a state title last season and have also lost only three games so far. According to the media and Obaseki. A lot of hype has been around the team and the people are watching.
"We take the hype the same way we would take the negative comments all of it is apart of what we want at the end of the day, a state title." Elder said.