Oscars 2019 Best Picture Nominees, Ranked
8. "Bohemian Rhapsody"
"Bohemian Rhapsody" took the top prize at the Golden Globes, which came as a shock to most. It is a standard music biopic: undoubtedly enjoyable, but lacking in creativity. The film, spanning from the establishment of Queen to their becoming a global sensation, is elevated by Rami Malek's performance as the captivating Freddie Mercury. While the film is mediocre in terms of style, Malek's Mercury is nothing of the sort, even though he doesn't get much time to really delve into the Queen frontman's complexities. The recreation of the musical sequences and attention to detail are memorable highlights, but ultimately "Bohemian Rhapsody" lacks the particular punch that the other nominees pack.
7. "Vice"
Christian Bale's performance and complete transformation are the most remarkable aspects of Adam McKay's "Vice," which has little else to offer other than its unusual, surreal storytelling style. Spanning almost four decades, "Vice" depicts Dick Cheney's rise from drunken dropout to one of the most powerful vice presidents in history. Even with such serious source material, "Vice" tries to find humor but is only truly successful half the time, some jokes outlandish to the point of jarring. By the time Cheney comes to power, the narrative has lost its ability to hold much interest. All in all, its strong performances are the only aspect worthy of consideration.
6. "Black Panther"
One of the more surprising leaders of the awards circuit this season, Ryan Coogler's "Black Panther" is more than just an average superhero flick — it is a cultural phenomenon and artistic revelation. As he grapples with the loss of his father, and challenger to the throne Killmonger (Michael B. Jordan), newly appointed king and Black Panther T'Challa (Chadwick Boseman) tries to adapt and become a strong ruler. He must decide whether or not to help the oppressed by opening his country to the world or keep his people's peaceful solitude. While not as ambitious plot-wise compared to the other nominees, "Black Panther" certainly is in the running for its relevant social commentary and visual artistry.
5. "Green Book"
Despite its promising premise and strong performances from its main actors, "Green Book" is a largely predictable film and a bit graceless at times in how it handles the important topics it discusses. Based on a true story, "Green Book" follows Tony Vallelonga (Viggo Mortenson), a poor and at-first prejudiced bodyguard, who is tasked with driving famed African American pianist Don Shirley (Mahershala Ali) on a concert tour in the 1960s South. Ali's strong performance as Shirley is worthy of accolades, but the film overall is quite simple and lacking in experimentation. Though for the most part enjoyable with occasional bits of humor between the main characters, "Green Book" falls victim to clichés in plot as well as in the topics it attempts to commentate on.
4. "A Star Is Born"
What Bradley Cooper's directorial debut "A Star Is Born" lacks in innovation, it makes up for in stellar musical numbers and performances from its main duo — Lady Gaga's Ally and Cooper's Jackson Maine — and its supporting cast. As the third remake of the 1937 film, with the same essential plotline no less, "A Star Is Born" still manages to captivate with its intense romance. It separates itself from its source material, mostly due to Gaga's memorable Ally, who becomes a musical sensation after accepting established musician Maine's help to get her footing in the industry. "A Star Is Born" is not the most impactful contender, but its emotional, strong character relationships help it hold its own.
3. "BlacKkKlansman"
Spike Lee's "BlacKkKlansman" is the most effective commentary on racism out of the Best Picture nominations, if not out of all of the films in the last year. Even though it focuses on Ron Stallworth (John David Washington), an African American police officer that infiltrates the Ku Klux Klan in the '70s, "BlacKkKlansman" is entirely relevant in today's political climate. Thanks to Lee's distinctive, dramatic style, the film avoids the typical biopic mundanity and makes a statement in a provocative, original way. Complete with strong performances, direction and source material, "BlacKkKlansman" has almost everything going for it and is a worthy contender for the top prize.
2. "The Favourite"
Despite appearing as a stuffy period drama on the surface, "The Favourite" is anything but. Director Yorgos Lanthimos masterfully captures the ambiguity of 18th century court life with the dynamic between England's Queen Anne (Olivia Colman), Lady Sarah (Rachel Weisz) and ambitious newcomer Abigail (Emma Stone). Colman is a standout as the comical yet pitiful queen. Though Weisz's and Stone's characters ruthlessly plot against each other for her affection, Colman's performance dominates as one of the most memorable of the 2019 Best Picture nominees.
1. "Roma"
The most decorated of the eight nominated films with 65 total wins, Alfonso Cuarón's semi-autobiographical "Roma" is a clear frontrunner for Best Picture and rightfully so. The black-and-white Netflix film is a nostalgic portrait of domestic life in 1970s Mexico City, focusing on a middle class family and their live-in maid, Cleo (Yalitza Aparicio). In its quiet and understated buildup, Cuarón manages to evoke as many complex emotions as in the film's climax. The moments of visual artistry, both monumental and mundane, carry an even amount of weight, setting "Roma" apart from its competitors.
About the Writer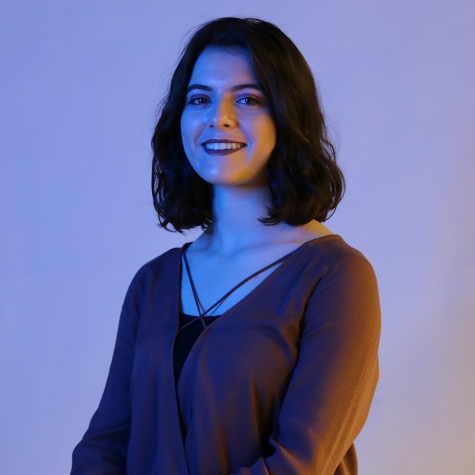 Morgan Pryor, Commentary Editor
Senior Morgan Pryor is a film enthusiast, visual artist and regular Comic-Con attendee. She plans on going to college to study studio art and journalism.