'Kamikaze': A Failed Revival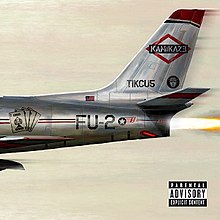 In his ninth studio album, "Kamikaze," Eminem spends thirteen tracks and forty-five minutes calling out the entire new generation of rap. Coming back from the most widely criticized album of his career, he attempts to gain relevancy and momentum in the current rap scene.
The album lacks any sort of content beyond Eminem's temper tantrum. "Kamikaze" includes his latest theme of rhyming every other word at a fast pace in an attempt to sound like a sophisticated rapper. In this album, he calls out his wife, the president, famed MCs, hip-hop personalities, and both current rappers and previous generation legends like Joe Budden, Machine Gun Kelly and Lil Pump. Many of these people have responded due to the fact that Eminem is such a big name in music.
Rap is no longer a contest of who has the best technique. Content, storytelling, cadence of voice, and unique flows are all much more important in this day and age. The problem is, no matter how good a producer is, if their style does not match the rapper's voice, flow, and tempo, every song will sound completely out of place, with "Kamikaze" falling victim to this fatal flaw. The most blatant example of this is prevalent in "Not Alike – (ft Royce da 5'9",)" where Tay Keith's production formula of simple percussion and constant hi-hats simply do not work at all with Eminem's voice, where he mocks the Migos flow on "Bad and Boujee." He disses the new generation of rappers that base their entire sound off trap music from the South, specifically Atlanta, Miami and Houston.
"Lucky You," featuring Eminem's latest signee, Joyner Lucas, is one of the only highlights on the album. Lucas carries the whole track and he has a great flow. While it doesn't offer anything amazing lyrically, he uses masterful inflection to make his voice properly match the tempo of the beat. Eminem comes in at the halfway point and loses all the momentum that Lucas began with. The bridge adds a completely useless and distracting distorted 808 and piano in the background, which again, is a major downfall for the entirety of the album. The production doesn't work with what Eminem's trying to accomplish with his own voice or make use of the fact that he is the best technical rapper in the world. He needs something simple to truly shine, and this beat is too cluttered and confused to let Eminem be himself.
2018 has been an amazing year for the rap industry with Kanye's five-album run, Travis Scott's "Astroworld," Drake's highly commercialized and successful "Scorpion", and many, many other albums. "Kamikaze" simply cannot hold a candle to the sheer creativity and vast amount of content that these albums provide. "Kamikaze" deserves a C- due to lackluster content and only one truly good track, where Eminem isn't even the highlight of it.
About the Writer
William Geiger, Sports editor
Senior William Geiger likes to use Twitter, watching NBA games, listening to music and dropping at Dusty Depot! He plans to go to Texas A&M and major in...