Senior Sweethearts
Ann Frey was crossing the street with her cousin to catch the bus home when they got stopped at the stoplight in the middle of the street by a group of guys. One of which, Donald Frey, told his friend the next day that she was going to be his future wife.
"I thought she was a pretty girl," Donald said. "She was the only one for me."
Ann says they went on a double date, and they went to the high school to take photos. Later, they traveled to Gasolina, N.C.
"He took me across the state line on the first date, so he's already in trouble," Ann said. "We were late coming in, and we had a flat tire."
Donald said that on the Fourth of July, when she was just 17 and him 20, he got down on one knee and proposed in the living room.
"He called me and wanted me to come to Biloxi, Miss., and marry him," Ann said. "My mother and daddy said 'you can get married in December if you want to, but [Ann] is staying home until she graduates,' and that's what I did."
They were later married on Dec. 23 in 1952, all while Ann was still in high school. Last December, they celebrated their 65th anniversary.  
"We really feel like God put us together," Ann said. "We've just grown closer and closer with each year."
She said she was dating a boy before she met Donald. That same boy stopped her at the bus stop when she was leaving to meet Donald in Mississippi and begged her not to go.
"I dumped him just like that when I met [Donald]," Ann said. "He had told me before, if he didn't marry me he was going to marry someone in my family and he did. A far distant cousin."
Donald served in the Air Force for 20 years and traveled from country to country. He says they called each other at least once a week.  
"He's never been very far away from me," Ann said. ¨I knew that the military would be sending him back, and I just waited for him."
They lived in many different places, according to Ann, when he was out on missions. She says he brought her back jewelry from everywhere he visited.  
"My kids tell me I'm rotten," she said. "From day one, he has spoiled me. All his life he has done that and still does."
Donald said they have many fond memories together spread out across their lifetime. They both scoured the Bible lands in Greece, been canoeing, and visited parks while he was a preacher.
"I love him more today than I did when I married him," she said. "We've been through many things together."
The key to a successful marriage is communication. There are going to be hard times but it's important to talk it out and never go to bed mad, Donald said.
"It's love that makes you think is that what you want," he said. "If we have any problems we talk it out."
Ann says that she has been in and out of the hospital, having procedure after procedure done, and Donald has been diagnosed with dementia.
"We promised to take care of each other and love each other," Ann said. "It's just those things that draw you closer and closer together."
Ann advice: when the right one comes, it'll stick out at you.
¨We just feel like it was a match made in heaven,¨ Ann said. ¨I would say if there is [soulmates], we are.¨
About the Writer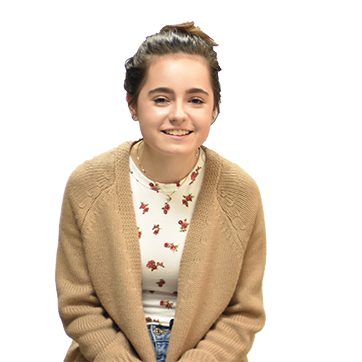 Natalie McMahon, Online editor
Senior Natalie McMahon likes abstract art, rainy weather and flowers. She plans to become a geriatric nurse.