Review: 'The Shape of Water'
Hang on for a minute...we're trying to find some more stories you might like.
"The Shape of Water" is partly a tale of star-crossed lovers and partly a tale of monsters.
A new take on the fairy tale genre, Guillermo del Toro's blend of romance and horror stands apart from the rest of the award-winning films of the year. "The Shape of Water" submerges its viewers into a wonderful world of whimsicality and imagination. The film achieves a distinguished level of visual artistry and storytelling that come together to teach a valuable lesson about what it means to be human.
The film opens with a narrated introduction to Elisa, dubbed the "princess without a voice," portrayed by the talented Sally Hawkins. She works as a janitor in a secret government facility at the height of the Cold War, where she discovers a fish-man (Doug Jones) being held captive for lab tests. Elisa and the creature have an instantaneous connection, which sparks a plan to escape the villainous clutches of government official Richard Strickland (Michael Shannon).
"The Shape of Water" draws much of its inspiration from the 1954 horror classic "Creature from the Black Lagoon." Del Toro's creation has similar origins, being a fish-human hybrid from the Amazon rainforest. The "Asset," as Strickland calls him, is brutally tortured for scientific research and the United States government's sought-after technological superiority over the Soviet Union.
The love between Elisa and the creature is unexpectedly plausible. Del Toro's ability to substantially remove the creepiness of an interspecies romance is remarkable. Their companionship is driven by wordless communication, so Elisa does not feel "incomplete" in the creature's presence, as she often does with others. Her only friends are Giles (Richard Jenkins), a gay man who lives in an apartment next door, and Zelda (Octavia Spencer), her talkative African-American co-worker. The story is as much about empathy for other species as it is for minorities, and "The Shape of Water" effectively conveys the outcasts' struggle to go against the current and fixed ways of society.
The only aspect that seems lacking in "The Shape of Water" is the development of its main characters' backstories. The creature appears abruptly, with only a short explanation that Strickland captured the being in the Amazon, where it was worshipped as a god. More mythology and insight into how the government obtained the Asset would have definitely aided del Toro's world building. Furthermore, very little is known about Elisa's past in particular. However, these omissions can easily be overlooked because del Toro gives just the right amount of information that it does not entirely distract from the present. He builds Zelda's and Giles' stories effectively so that they serve central roles and functions, not just as supporting players.
Del Toro's ensemble is nothing short of captivating. Hawkins' elegant performance, carried solely by her facial expressions and body movements, is artistry in every sense of the word. Hawkins' Elisa and Jones' otherworldly creature communicate through these gestures and forge an unforgettable portrayal of doomed romance. On the other hand is Shannon's truly menacing Strickland, who is more cold-blooded and ruthless than his captive. What makes Strickland most terrifying is his conviction that he is not evil and that his exploitation of the Asset's abilities are in his nation's best interest. Shannon does not fail to create a tyrannical, abusive nemesis opposite of Hawkins' and Jones' protagonists.
"The Shape of Water" is a fairy tale that is not afraid to explore the darker and more sinister aspects of humanity such as bigotry, homophobia, abuse of power and racism. It takes present day issues and adds old Hollywood flair to get its message across with unwavering honesty. "The Shape of Water" is more than deserving of an "A" for its stunning craftsmanship at the hands of del Toro and his powerful ensemble.

About the Writer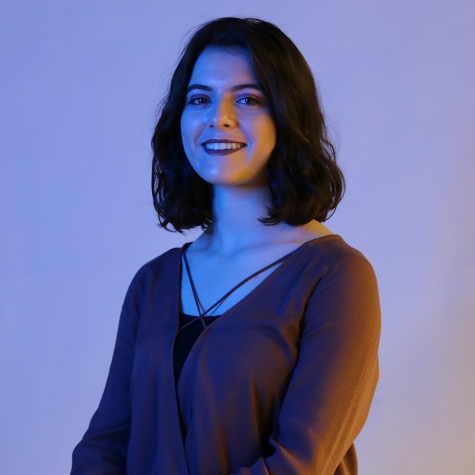 Morgan Pryor, Commentary Editor
Senior Morgan Pryor is a film enthusiast, visual artist and regular Comic-Con attendee. She plans on going to college to study studio art and journalism.