Player's Perspective: Allen wins fifth state title
In a back-and-forth affair filled with big moments and big plays, the Allen Eagles defeated the Lake Travis Cavaliers by a score of 35-33 in the Texas UIL 6A Division I state championship at AT&T Stadium. The win concluded a perfect 16-0 season for the Eagles and marked the program's fifth championship victory.
"[Winning state] means the world to me," senior running back Brock Sturges said. "Us seniors, we talked about how we wanted to do it for the city. The past two years we came up short, but we just kept preaching 'do it for the city,' and that's what we were able to come out and do."
The Eagles started off the game hot, jumping to a 21-0 lead after an injury to the Cavalier's starting quarterback and two Cavalier turnovers. However, Lake Travis responded with a scoring run of their own, putting up 24 consecutive points to give them a three point lead in the middle of the third quarter.
"One of the things that we talked about too, before we left Allen, was that there was going to be adversity," head coach Terry Gambill said. "Once you get through it, you'll be fine. Flush it, move on to the next play."
The Eagles responded to the scoring outburst with a 12-play, 76-yard touchdown drive that was capped off by a two-yard touchdown run by junior quarterback Grant Tisdale. The offense relied upon Sturges, who finished the game with 176 rushing yards and three touchdowns on his way to being named Offensive MVP.
"I can't do anything, break records or whatever y'all want to call it, none of those things would happen without [my offensive line]," Sturges said. "I just talked to them and told them to 'keep grinding, keep pounding it on them, and I promise you we'll get the job done.'"
Allen gave up a touchdown to Lake Travis on their next drive, but Lake Travis was stopped on their two-point conversion attempt. The Cavaliers got the ball again on offense down two early in the fourth quarter, but were stopped by an interception by senior safety Taj Bickham, who was named Defensive MVP. The interception was Allen's fourth forced turnover of the game. After the interception, Allen was able to run out the clock and cement their victory.
"It was just another play," Bickham said. "I knew they were going to try to go downfield and get a quick touchdown because time was ticking. I knew they were throwing it."
The championship is Allen's first since 2014, and the first championship under the direction of Gambill. For more coverage of the state title, stay here on The Eagle Angle or follow our Twitter, @theeagleangle.
About the Contributor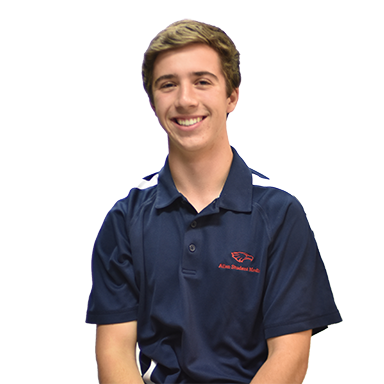 Parker Primrose, Sports editor
Senior Parker Primrose is a huge Denver Broncos fan, has a golden retriever for a brother and loves the movie Forrest Gump. Primrose plans to attend [insert...