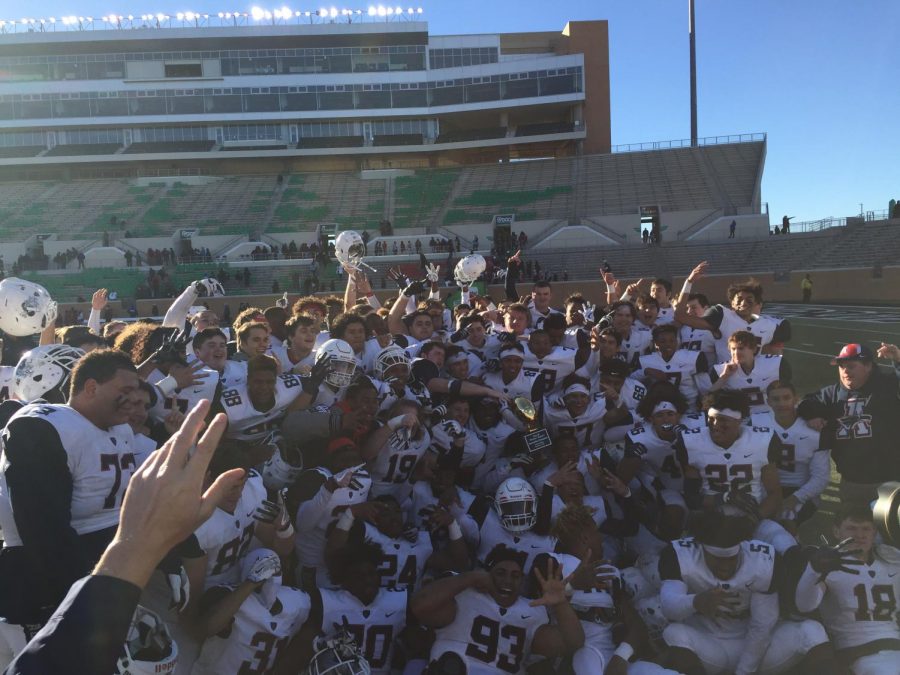 In a game that started out close and slipped away late, the Allen Eagles emerged victorious against Euless Trinity Trojans by a score of 41-20. The win pushes the Eagles to the semifinals of the playoffs with a perfect record of 14-0.

Trinity started the game off hot, scoring touchdowns on their first two drives with a combined 121 yards rushing. Relying on a consistent stream of short gains, Trinity did not have 10 yards passing until the second quarter.

"We made key adjustments," junior defensive lineman Jayden Jernigan. "On the first drive, they kicked us in the butt. We just had to get up, get grit and go play."

The Eagle offense matched Trinity's with a variety of short passes and big gains on the ground. The play of the half came with just 11 seconds remaining, as junior quarterback Grant Tisdale completed a shovel pass to Andrew Magee while falling for an 11-yard touchdown as time expired.

"I'm the check down receiver on that play," Magee said. "I just kept staying back and let him do his thing. He just kind of chucked the ball up in the air and I caught, and then I ran as fast as I could."

The Trojans were unable to keep their momentum in the second half, as the Eagle defense allowed just 96 total yards in the second half. The defense finished the game allowing just 55 passing yards.

"We study film and come out ready to play," junior defensive back Mo Perkins said. "We're ring chasing."

The Eagle offense spent the second half methodically driving down the field and keeping the clock running. The highlight of the half came on a 30-yard touchdown run by Sturges, who finished the game with 177 total yards and two touchdowns.

"[The coaches] put us in a great position to win," Sturges said. "I also have to give it up to my great [offensive] line. Without them, I can't do anything."

Next week the Eagles will take on either Cedar Ridge or Hendrickson at Baylor on Dec. 16. Keep up with all the action by staying here on The Eagle Angle or by following our Twitter, @theeagleangle.