'Harry Styles: Live on Tour' Review
Hang on for a minute...we're trying to find some more stories you might like.
With a floral pink curtain concealing the stage from view and fluorescent lights still glaring, fans were on their feet chanting "Harry" long before the show was underway. When darkness finally enveloped the thousands of screaming women, the British heartthrob teased the crowd by crooning into the microphone with only his silhouette visible. As soon as the curtain fluttered to the floor, Harry Styles began his show. The electricity and command he held over the stage was instantaneous in the Toyota Music Factory in Irving on the evening of Oct. 10.
The opening bars to "Ever Since New York" thrummed through the venue as Styles competed to be heard over his dedicated, largely female- and teenage- fan base screaming the lyrics. Dressed in his trademark fashion with printed pants and a black button-down shirt, Styles exuded a cool and effortless presence that could be felt in every area of the intimate 4,000-seat venue.
Styles proceeded to make his fans swoon with strong vocals in "Two Ghosts" and picked the tempo up with southern-style "Carolina," working the crowd with a sly smile and his acoustic guitar. After charming the crowd with a playful introduction, Styles serenaded with fan-favorite "Sweet Creature" while fans swayed with paper hearts raised above their heads. The nostalgia was heavy during "Story of My Life" — a small tribute to his past — but it did nothing to diminish his new identity as a folk-rock singer.
It took several songs for Styles to move out from behind his microphone, even bordering on stiff throughout the first few songs. However, he is adjusting to being a frontman rather than a member of a group, and it was to be expected that Styles would retain some seriousness. With only ten songs to your name, and a solo-career on the line, there is a lot of pressure to hold up to the expectations of thousands of fans.
Once he did loosen up, even donning a rainbow flag and reinforcing his message to "treat people with kindness," Styles was engaging and interactive. The audience ate up everything Styles said; he even talked to the crowd and addressed people directly for minutes at a time. In no way did these interludes dampen the mood or experience. If anything, Styles strengthened the bond between audience and performer.
About halfway through the show, Styles picked up the pace during "Only Angel," revealing his more playful and humorous nature with adorable dance moves and an invitation to join him. He maintained the upbeat momentum with "Woman," slowed it down with wistful "Meet Me in the Hallway," and covered Ariana Grande's "Just A Little Bit Of Your Heart." One of the more memorable moments was Styles' new take on the One Direction hit "What Makes You Beautiful." He gave it a rocker vibe, transforming it completely to conform to his new image.
However, no other moment of the night was more noteworthy than when Styles sang "Kiwi," declared as "his favorite one to do." After two false starts, Styles wanted "to make sure he got it right" and called for his fans to bring the energy level up. The audience couldn't help but match Styles' intensity as he threw water into the air and ran from one side of the stage to the other. During the song, the whole venue shouted the line, "I'm having your baby," right along with him.
After chanting his name for several minutes, the crowd compelled Styles to return for an encore with "From the Dining Table," and an impressive cover of Fleetwood Mac's "The Chain," which even had the scattered parents in the audience on their feet. For his finale, Styles chose his first single "Sign of The Times," a passionate and heartfelt performance accompanied by thousands of swaying lights in the air. After his last song, Styles donned a rainbow boa and a pink cowboy hat as the audience applauded, cheering him off the stage.
Styles proved with this performance that he can hold his own as a rock singer and still maintain his loyal fan base. His transition from boyband superstar to serious rock-and-roll frontman was smooth and seemingly effortless, even managing to tackle political and social issues. Never has Styles' message of treating people with kindness been more prevalent in the world. With a combination of gritty rock songs, beautiful ballads and his charming personality, Styles created an atmosphere that embodies exactly what the concert-going experience stands for: acceptance and unity. This was easily an A+ performance and a strong debut in Styles' first solo world tour.

About the Writer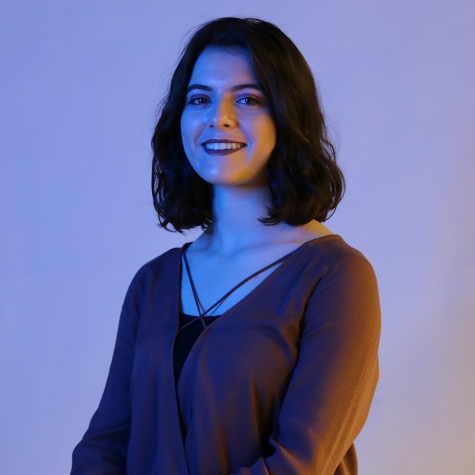 Morgan Pryor, Commentary Editor
Senior Morgan Pryor is a film enthusiast, visual artist and regular Comic-Con attendee. She plans on going to college to study studio art and journalism.