Welcome to the block party
A team filled with both familiar and fresh faces, the Allen High School girls volleyball team is off to a great start of their season. With an extremely talented and hardworking group of girls, Allen could win their first volleyball state championship in school history.
The Lady Eagles volleyball team started the season strong, with a record of 6-4 and a total record of 28-7. However, their road to victory will get more challenging as the season progresses.
As the volleyball season began, the Lady Eagles fell victim to a series of injuries that benched junior Morgan Christon and seniors Grace Klepetka, Amari Wilson and Gabby Perez.
"It has definitely been a challenge," Coach Kelley Gregoriew said. "I think they have handled the adversity really well and they have come together as a team to support the group as a whole."
Now, power hitters Christon, Klepetka and Wilson are back on the court, but junior Emily Janek is now sidelined with a knee injury.
"From the coaching standpoint, it is just continually coming up with what combination is going to work in that particular moment with the healthy players that we have, and hopefully still healthy as we get towards the end with everybody," Gregoriew said. "I would love to see the whole team."
Varsity is stacked with 10 seniors this season, so they have had plenty of time to make some great memories and traditions for Allen volleyball.
"The bus rides are always fun. They give us a chance to connect with one another and learn different silly little things about each other," senior Avery Haydu said. "We also have pregame warm ups in the locker room; we [also] have jam sessions."
As of now, the varsity team has 12 verbal college commitments, an all time high for the Lady Eagles volleyball program.
"I think it's really awesome that we have been able to play with all these extremely talented and gifted athletes here at Allen, and within our district and state," senior Emily Walsh said. "For college I am nervous, but [because I have been] playing in such a competitive atmosphere, I feel ready to go play."
It is rare in such a competitive sport for a freshman to make the varsity team, especially a team majorly made up of seniors.  However, freshman Callie Kemohah is a unique and talented player who has secured the libero position, which is the defensive specialist that receives the most playing time, on varsity for the majority of the season so far.
"It has kind of been easy this year because I have known [the girls] and grown up with them because of my sister," Kemohah said. "Every time I'm on the court, they are always boosting me up."
Texas is a very competitive state for volleyball. Named one of the top four hardest states to win a high school state title in by Maxpreps, Allen is no stranger to tough competition.
"I think it's important to view every game as our strongest opponent because you never know who can sneak up on you," Walsh said. "Being in such a talented volleyball state, you can't overlook any team."
The Lady Eagles were the champions of District 6-6A last year and are predicted to repeat as winners. However, they will have to earn the title and finish the season strong, as they have already lost matches to McKinney Boyd High School and Plano West High School in the first round of district.
"[Our toughest opponent] was Plano East because they beat us in Pearland," Haydu said, "but we came back in [the first round of] district and beat them."
For the Lady Eagles, playoffs bring a different aspect to the game, compared to the district games they play in every season.
"In district, it is comfortable because you know everyone that you are playing," Walsh said. "In playoffs, it is a new adventure every game because you don't know what [the other teams] are going to be like, or sometimes you might not know anybody on the team that you are playing."
After a few years of playoff runs ending early, the Eagles are ready for the intensity and pressure this season's playoffs will bring.
"In district, you have that feeling where it is an important game, but it's not the end of the world if you don't win," Haydu said. "In playoffs, if you lose, you're out, so you have to give it everything you have, every single game."
As of now the Lady Eagles are ranked 16th in the nation and fourth in the state, according to Maxpreps, which predicts success in playoffs for the Lady Eagles.
"Everyone on the team is very strong and everyone really contributes to what we are working for," Walsh said. "We have all known each other for a very long time too, so if there is any time to do it, it would be now, with the talent and the team chemistry."
Since the majority of the varsity players are seniors this year, it is now or never for them to win a state title.
"This is Allen's year to win," Haydu said.
About the Writer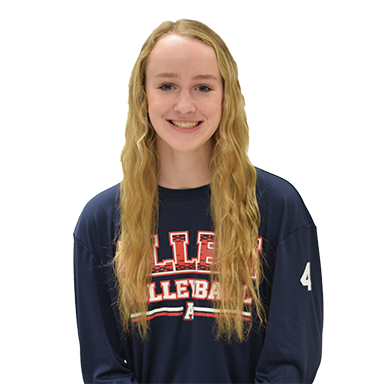 Jenna Sturgeon, Staff writer
Junior Jenna Sturgeon likes meaningful music, Krav Maga and salted caramel foods. She wants to attend an advanced university and (as of now) major in something...