Rockin' ISPs
Seniors build guitars for Independent Study Project
Hang on for a minute...we're trying to find some more stories you might like.
Building a guitar can be hard work. From sanding and staining to assembling different parts, crafting it requires dedication, problem solving skills and a strong interest in music. Seniors Jeffrey McPherson and Isaac Rowley would know because they both decided to build electric guitars for their independent study projects (ISP).
ISP requires Phoenix juniors and seniors to choose a field of study and create something related to that field. The open-endedness of the project allows students the flexibility and creativity to create something they are passionate about or something they want to learn more about.
"Some people do fashion shows, make video games with coding and design all sorts of really neat things," McPherson said. "My thing was, I wanted to know more about how a guitar works because I knew how to play one, so I just took that idea and went forward with it."
McPherson comes from a family of musicians; his father plays guitar and both of his parents sing. McPherson said that this is one of the primary reasons he became passionate about music.
"I grew up around a lot of music and wanted to be a part of that," McPherson said. "I play for the orchestra, the show choir and my church. Music is just a big part of my life, so I decided to build a guitar to advance my musicality."
Rowley says he wanted to build a guitar for his project because of his interest in constructing different objects from scratch.
"I'm fascinated with building things, and I've always kind of been that way," Rowley said. "[I've seen] a whole bunch of regular people who aren't master guitar builders or anything are able to build their own guitars. I figured that would be kind of cool to do."
Both students said they began their projects with a lot of research in order to figure out the general idea of what they wanted to make.
"Guitars are very versatile instruments, so there are lots of things I could've done with it," McPherson said. "I wanted something simple just to start, so it involved doing some research before I even did anything, so I have an idea of how it works and what I wanted to make."
Rowley's research was also lengthy due to the amount of planning needed.
"I started all the research portion of the project back in the beginning of January, and I didn't start building the guitar or making any physical part of it until the beginning of March, so two months," Rowley said. "I really wanted to make sure I didn't mess anything up with the pre-planning process."
After research, McPherson used a kit to start building his guitar.
"What the kit came with was just the body and neck and separate pieces, unsanded, uncolored and all the hardware was off to the side," McPherson said. "The first thing I did was sand everything down. Then I began the process of coloring it, so I used wood stain to make it red and black like it is now."
After that, all McPherson had to do was wire the guitar up and add the metal parts to it.
"That was it," McPherson said. "It's easy to say, but it takes a long time to do."
Rowley, on the other hand, started with blocks of wood that he shaped into the different parts of the guitar, starting with neck – the part of the guitar that is used to actually play the instrument .
"That ended up going horribly wrong," Rowley said. "I sunk 12 hours into that, trying to get everything right, and then it ended up being a total fail. I had to end up ordering a whole other piece of wood for the neck."
After fixing the neck, Rowley continued to shape and add pieces to his guitar before finally finishing up the design, which included an additional seventh string to accommodate for more range and notes.
"The end of my project was just getting the fine sanding and fine-tuning of everything in the wood portion of the guitar. That's where my project has ended up right now, just the wood portions of it," Rowley said. "I've worked on this on and off with my dad, and we spent a total of around 130 hours on it so far, and we still have a bunch to go."
Of course, big projects like these have their challenges, which both of these students faced. For instance, McPherson had a problem staining his guitar.
"I discovered that the kit I bought did not actually have a wood top," McPherson said. "It was some sort of vinyl fake wood material, so the stain I was using didn't react like normal stain would with wood because it wasn't wood. It didn't turn out exactly how I thought about it, but I was still happy with the end result."
Rowley's problems were more in regard to time due to the large amount of work that came with the project choice.
"Every single time I've planned to do anything, I thought it would take a certain amount of time, and then it just ended up taking at least three or four times however long I had planned for it to take," Rowley said. "Every single time we would start on anything, it would just take longer and longer than I had anticipated."
Rowley wasn't able to complete the whole guitar. However, he finished the wood design, which he was able to show to his class.
"Technically, my original plan was to have the complete guitar finished with all the electronics in it and everything and have it be playable," Rowley said. "But after a few weeks of working on it, I realized that just wasn't going to be possible in the timeframe I had. I talked to my teacher, and we agreed that I could just do the design part of it and have the woodworking portion of it done."
Despite their challenges, both McPherson and Rowley were able to craft their very own guitar that McPherson believed created a lot of interest among their classmates.
"I think they were impressed with it," McPherson said. "I wasn't the only one doing it, but it was kind of interesting to see how we took the project in different ways, like a compare and contrast kind of thing. I think guitar is an instrument that everyone knows what it is, and they see it all the time, so it's cool to see someone else make it in real life."

About the Writer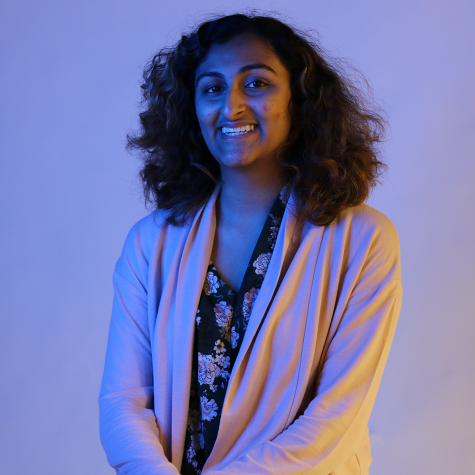 Maya Morriswala, Editor-in-Chief
Senior Maya Morriswala enjoys listening to music, playing piano and writing everything from piano solos to orchestral compositions. She plans to go to...