Creativity shines at AP Art Show
From paint to pastels to prisma to ceramics, art in every form was featured on April 28 in the PAC Art Gallery for the AP art show. The purpose of the AP art show is to present the work that the AP art students have been working on all year.
"We have the art show to display the amazing work of our AP Art students," advanced academics coordinator Shelly Holmes said. "Because the show is open to the public, it's also a recruiting tool for our advanced art programs."

AP art students start preparing for the show on the first day of school. They are told to choose the amount of display boards their work will be presented on, pick out at least five of their works, then arrange them on the boards, including their name plate and an artist statement.
"Although it doesn't sound like too much, matting the pieces, getting everything organized, and scrambling to make our presentations perfect too is a lot of work," junior Austin Galletti said.
At the beginning of the year, students are told to pick a theme and develop it while adhering to AP guidelines.
"My theme has been over distortion of emotion," junior Victoria Nourse said. "It's basically displaying art in a distorted way."
Nourse says that creating art has helped her understand how to correct errors and learn from others' critiques.
"At the beginning of the year, we do critiques, and it really helps you understand what you need to improve," Nourse said. "We also start presenting later in front of the whole class instead of just at a table, and they give you feedback too. That's what builds you the most because it helps you for your next piece."
Holmes believes art helps everyone interpret the world around them and that the process of creating art helps the artist take an imagined idea and make it reality.
"Art, my entire life, has been a huge passion for me and it's honestly what I'm good at. Everyone kinda has their own 'thing' that they love to do and excel at," Galletti said. "For me, that's art, and the passion, enjoyment, and challenges I get from creating is what's important to me."
Nourse and Galletti agree that anyone is capable of creating art.
"Anyone can do art honestly," Galletti said. "It just takes loads and loads of practice. I've been drawing and creating since I could walk, and I'm 17 now. Just keep your perseverance up and your bars high and you'll surprise yourself with how good you'll get."
About the Writer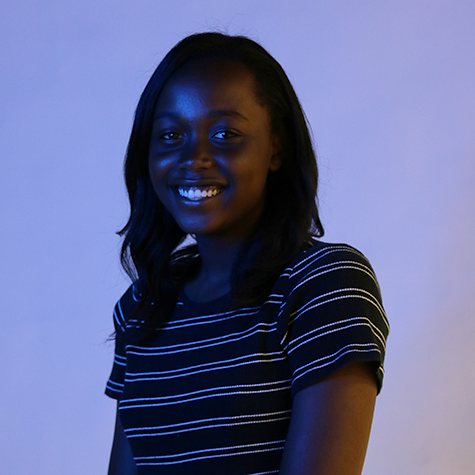 Christine Odwesso, News Editor
Senior Christine Odwesso loves listening to music, writing poetry, and reading anything and everything. She plans on going to university to become a professional...