Eagles Own the Podium at District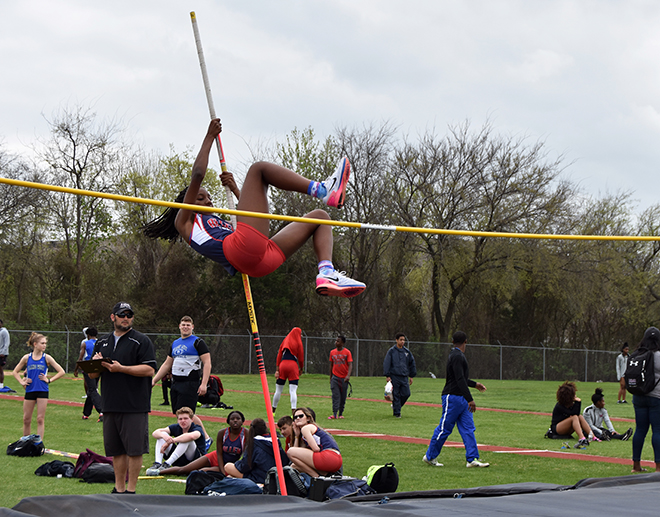 Both the boys and girls track teams emerged as champions from the District 6-6A tournament at Tom Kimbrough Stadium in Murphy on April 12 and 13. The victory represented the boys second consecutive district title and the girls first title since 2014.
"We went out and we put on a show," sophomore De'ja Dade said. "It was very exciting. We picked up Coach [Elizabeth] Allen and everything. It was really fun. It was a great celebration."
The boys team scored 152 points, beating second place Plano East by 52 points and third place Wylie by 72 points. The boys had 13 athletes finish in the top four of 11 different events and who will be advancing to compete at area, highlighted by senior Jaylen Allen's first place finishes in the 100-meter and the 200-meter races as well as senior Jake Johnson's first place finishes in the 1600-meter and 3200-meter races.
"I knew I was capable of [finishing first at district], I just had to go out and perform to my fullest," Johnson said. "I really want to make it to state. I know it will be hard and it'll be a tough path, but I know I can do it. I fell just short last year, so I want to get over that this year."
The girls team scored 170 points, outscoring second place Plano Senior by 42 points and third place McKinney Boyd by 80 points. For the girls, 11 different athletes will be headed to areas after finishing in the top four of 14 different events. Some of the top performances included senior Caroline Pruitt's second place finish in the 300-meter hurdles and fourth place finish in the 100-meter hurdles.
"We were all kind of expecting a win, but we still had to come together and make it happen," Pruitt said. "It felt good [to win]. Now we're just getting tuned up for area, getting ready for regionals."
The boys team dominated the relays, finishing first in the 4×100-meter and 4×400-meter relays and third in the 4×200-meter relay. The 4×200-meter relay team has already broken the school record this season, but according to junior Asante Fazarro they're just getting started.
"We're going to break the [4×100-meter] school record," Fazarro, who is on the 4×100-meter and 4×200-meter teams, said. "We were this close [to breaking it at district]. I looked at the board and I was like 'oh, come on, you've got to be kidding me.' We've just got to train hard this week."
The girls relay teams had an even stronger performance, taking first place in the 4×100-meter and 4×200-meter relays as well as second in the 4×400-meter relay.
"It wasn't surprising, but it was just a really good feeling overall," Dade, who is on the 4×100-meter and 4×200-meter teams, said. "Our goal is to move on and win state."
The area meet will be at Texan Stadium in Trophy Club, Texas on April 21 and 22.
About the Writer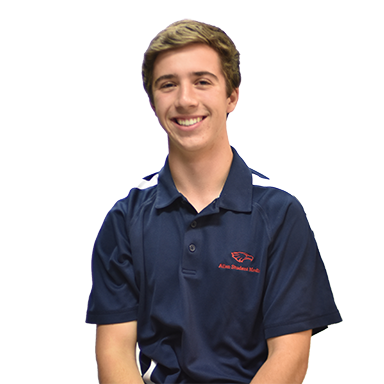 Parker Primrose, Sports editor
Senior Parker Primrose is a huge Denver Broncos fan, has a golden retriever for a brother and loves the movie Forrest Gump. Primrose plans to attend [insert...