Icing on Top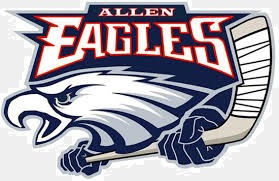 The Allen Eagle Ice Hockey Club finished up a historic season with a 9-4 loss to North Broward Prep (FL) at the USA Hockey national championship in Cleveland, Ohio on April 1. The loss put the Eagles at 1-2 in the pure division of the tournament and ended their bid for a national championship after their state title in Texas.
"For us, it was more about proving ourselves for the community and hockey in Dallas, and in Texas in general," senior Edward Xiao said. "I'm just really proud to represent the city as well as the state."
No team from Texas has ever won the pure division national championship, and the only team to ever win the combined division championship from Texas was the Frisco combined team on April 3. In spite of history not being on their side, senior Bao-Doan Do says that the team wasn't intimidated.
"Our entire team is a lot smaller than everyone else and we probably weren't up to the same skill level as them, but we still came out and pulled out some wins," Do said. "I don't think any of us were scared necessarily. We were all just kind of like 'we're going to go in and work hard and play like we want to play and enjoy ourselves, especially if it's our last season playing.'"
The team's trip to nationals was defined by late-game heroics. In the third period, the team scored a combined seven goals between the three games, while only allowing two. In the team's win over Marriotts Ridge, the team came back from being down 3-1 in the second period to win the game 7-4.
"[The comeback] shows a lot of character, and it proves that we can play with anybody if we show up and play the way that we need to play," head coach Jason Deitsch said. "But to really be a good team, we've got to play a full game. We can't take those times off and expect to be able to come back all the time. Those were big points and it was very encouraging to see those comebacks, but moving forward and going into next year, we need to try to put a full game together night-in and night-out, and that's how we can become a really good team."
The team's leading scorers during the national tournament were senior Jacob Yaseen and juniors Jordan Almeida and Will Gongos, all of whom scored three points. Also scoring was junior Preston Ford (two), Xiao (two), Doan (one), freshman Carson Loos (one) and freshman Robert Bernier (one).
"Personally, the goals I scored wouldn't have happened without my teammates and their passing abilities," Xiao said. "It was really the teamwork that helped me score all the goals. I was just doing it to try to win the games."
Although the team has seven seniors graduating, Deitsch sees the national championship experience as something that the team can use as a springboard into next year.
"Last season was tough for us," Deitsch said. "So transitioning into this year and being able to build on that, to have a chance to win a state championship is a really great accomplishment. Now we've got to build from that and try to get better every year."
About the Writer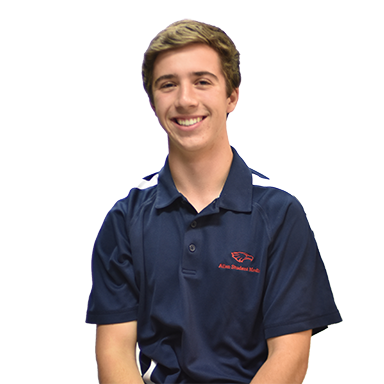 Parker Primrose, Sports editor
Senior Parker Primrose is a huge Denver Broncos fan, has a golden retriever for a brother and loves the movie Forrest Gump. Primrose plans to attend [insert...