Review: '13 Reasons Why'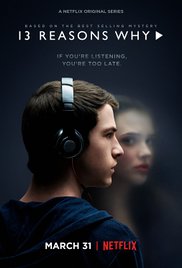 Hang on for a minute...we're trying to find some more stories you might like.
"13 Reasons Why" made its Netflix debut March 31, and if you're anything like me, you finished all 13 episodes promptly. I am all but ashamed to say that I binge watched the entire season in a single weekend. A series like this deserves a devoted binger like myself to dissect this all too real phenomenon.
The series covers every excruciatingly painful topic under the sun. It's relevance begins with suicidal 17 year-old Hannah Baker. In retro fashion, she deliberately leaves behind 13 cassette tapes explaining  the reasons why she took her own life. These "reasons" just happened to be people in her life.
Sexuality, multiple sexual assaults, domestic violence, gun violence and alcohol abuse all play a role in our society, where brushing these issues under the rug is often the suggested solution.  Perhaps this is why I am so incredibly smitten with "13 Reasons Why," because of its intense and deep realness. This show reveals the consequences that come along with pretending like these problems don't exist.
Alongside Clay Jensen, the boy hopelessly and quietly in love with Hannah, we listen to her horrible stories of what her peers have done to her and others. Clay appears on tape 11, given the tapes by person 10, and is supposed to pass them onto the person on tape 12. Clay gradually loses himself in the tapes and is overridden with guilt, unlike the rest of the "reasons."
At first glance, it was easy to label her peers as immoral, but the lesson became clear with tape three. In order to hide her sexuality, the third person on the tapes creates rumors about Hannah in efforts to mask her own struggle. Throughout the rest of the show, the characters took the option to protect themselves and hurt someone else.
While I was not appreciative of the occasionally sub-par acting, I felt that the characters and storyline discussed touchy topics in the most tasteful way possible. I completely honor a medium that has the maturity to talk about girls being assaulted or boys getting kicked out by their own mother. Being able to present these topics to teenagers in a way they can appreciate, like Netflix, is something hardly done anymore by media. No one talks about suicide or hiding your sexuality at the teenage level because it's "too hard."
On a scale of one to 10 "13 Reasons Why" deserves a, well a 13. All jokes aside, its ability to touch the viewer in at least one gut-wrenching way is beyond amazing and has opened my eyes to the demons all people face. Targeting it toward teenagers is the perfect way to communicate valuable messages while giving an enjoyable show filled with drama and hints of teenage wit, deeming it worthy of an 'A.'