Q & A with Bo Nickal
The Eagle Angle caught up with former Allen High School wrestler Bo Nickal in order to get his thoughts on his national championship and reflect on his time at Allen High School.
Nickal graduated from Allen High School in 2014 and is now a redshirt sophomore at Penn State. While at Allen, Nickal won three wrestling state championships as well as one championship runner-up while accumulating a 183-7 record.
At Penn State, Nickal recently won the national championship for the 184-weight class and received the 2017 NCAA Championship's Gorriaran Award. Nickal is also a two-time NCAA All-American and has an overall record of 59-3.
What was the national championship experience like?
It was pretty awesome. It really was a weird feeling because I'd visualized it and dreamed about it so many times that when it happened it was really weird, but it was pretty awesome to accomplish one of my goals and something that I've worked so hard to do. It felt pretty amazing.
What's it like now competing at a program that's been as successful as Penn State has?
We all have so much fun together and just build off one another and get along so well, it's like a family here. I feel like that's part of why we're successful, we all want to see each other succeed and we all want to help each one of us do our best. When that happens, we really do well with the competition. It's awesome to see my teammates and my coaches have their moments and their successes. I honestly enjoy that more than my own.
What has been your favorite collegiate moment or collegiate memory up to this point?
This last NCAA tournament, it was incredible just seeing my teammates go out there and succeed. Since we won five weights in a row, there's really nothing like that. Getting to experience that and just have everybody around me and all of my family there and all of my best friends, that was really unexplainable and I'll never forget that. It was an awesome moment.
At such a young age, getting all of this attention and success, how do you handle all that comes with it?
I don't really think about it too much. I just wrestle and do the things I do because I enjoy them. I don't really do it for the notoriety or anything like that. It's just something that I really enjoy. I love the process of the sport, going to practice every day and working on the little things and stuff like that. I just wrestle because it's what I really enjoy and is what's fun for me.
Do you feel like wrestling at a big program like Allen helped prepare you for the collegiate level?
It definitely helped prepare me, just with the amount of traveling we did and all the awesome partners and coaches that I had at Allen. I was really lucky to be a part of that program, and it's definitely something I can credit a lot of my success to.
As someone who helped lay the foundation for the current success of the Allen wrestling program, what's it like to see the team continue to succeed?
It's great. It makes me really proud to be an alumnus of the school. You see the incredible tradition that's being built there, and it's just awesome to see how much we dominate year-in and year-out. It's really cool to have been a part of that myself and I'm really proud to have gone through that program.
What would you say was your favorite memory from wrestling at Allen High School?
Oh man, there's so many. The things that I remember most are just my teammates and having awesome times with them, getting to travel around the country and compete and wrestle and hangout with these guys. I really feel like I still have close relationships with some of the guys that I competed with, so it's just awesome to have those relationships turn into lifelong things where it's more than just wrestling. I can truly say those guys are going to be my friends for life.
If you could go back to Allen and go talk to some freshmen wrestlers right now, what would you tell them?
I would say just have fun with wrestling. It's going to be tough and it's not always going to be the easiest thing to go through the workouts and all that stuff, but just focus on having fun and putting out your best effort. It's not necessarily so much about whether you win or whether you lose, just focus on how hard you compete and enjoy the moments. The way I look at it now, I've only got so many years left where I get to continue wrestling, so I'm just going to make the most of each moment and I really am just grateful for the opportunities that God blessed me with. So if I could impart just one thing to focus on, it would be gratitude.  
For you, it's almost like you've already done it all. So what's your next goal, what's next for Bo Nickal?
I'm definitely going to work on improving, just improve a little bit every day. I'm planning on making some senior-level world teams and the Olympic team a couple of times. I just want to keep wrestling and having fun with it.
About the Writer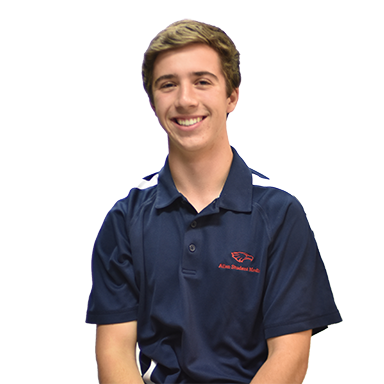 Parker Primrose, Sports editor
Senior Parker Primrose is a huge Denver Broncos fan, has a golden retriever for a brother and loves the movie Forrest Gump. Primrose plans to attend [insert...